Dijon Pesto Sauce with Pasta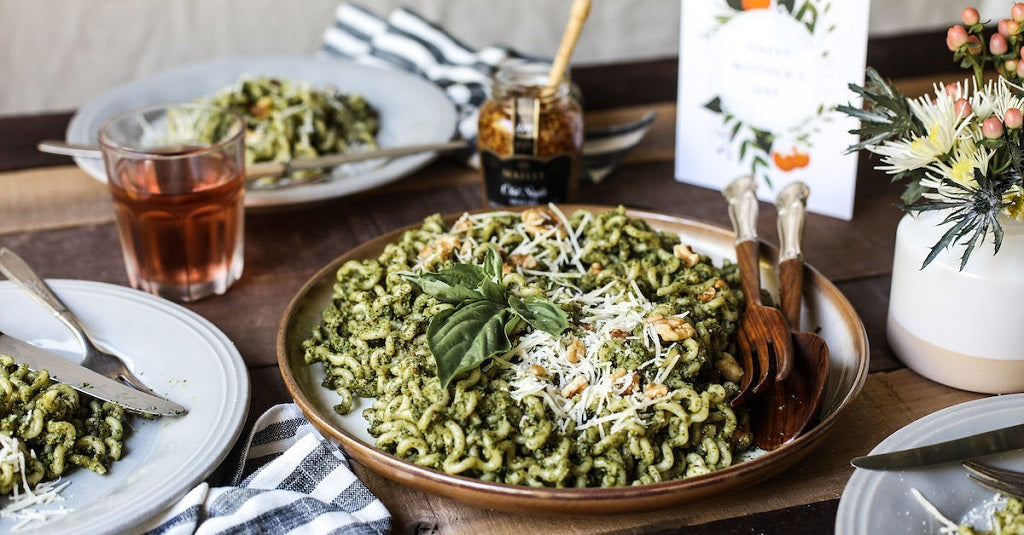 Recipe by: Runway Chef
Servings: 2 cups (or enough for ½- ¾ pound of pasta)
Ingredients
5 tsps Maille Old Style Mustard
1 cup toasted walnuts
1 cup grated parmesan cheese
3 garlic cloves
¾ tsps salt
4 ounces (or 3 cups, packed) basil leaves, stems removed
¾ cup olive oil
1/2 pound of your choice of pasta, cooked al dente (be sure to reserve ½ cup of the cooking water)
Preparation
In a food processor, combine the Maille Old Style Mustard, walnuts, parmesan cheese, garlic, salt, basil and olive oil.
Pulse for a few seconds, scrape down the sides, then blend for 60-90 seconds, or until the ingredients are well-blended with a slight texture.
To serve, toss with cooked pasta and ¼ cup reserved cooking water, adding additional water if needed.
Season with salt and pepper and garnish with your choice of fresh grated parmesan cheese, fresh basil, chopped walnuts or cherry tomatoes.
Note: The pesto can be made 5-7 days ahead and stored in an airtight container in the refrigerator. 
---