Dijon Portobello Mushroom Burger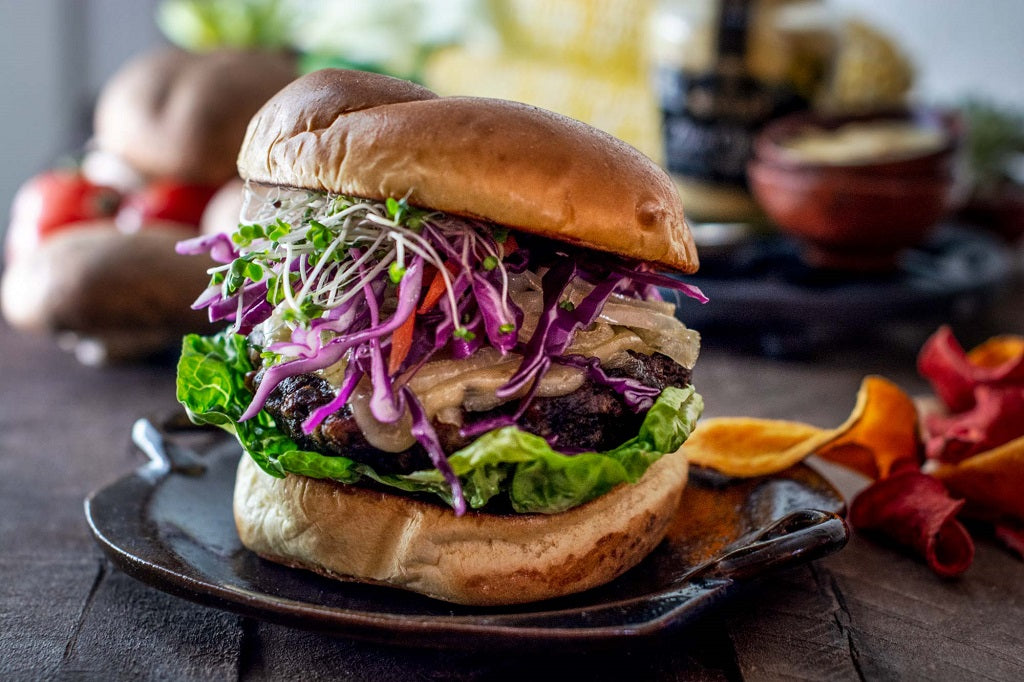 Recipe by: Little Figgy
Servings: 4
Ingredients
For the mushroom burger patties:
2 large Portobello mushroom caps (about 6 ounces each), diced
1 (15-ounce) can of lentils (can substitute for any preferred bean, I also like to use field peas)
1 tbsp. hemp, chia, or flaxseed
2 cloves garlic, minced
1 tbsp. flat leaf parsley, chopped
2 -3 tbsps. Maille Traditional Dijon Originale Mustard
1 cup bread crumbs
2 eggs
1 tsp. salt
1/2 tsp. pepper
Optional Toppings Ideas:
4 ounces Havarti cheese, shredded
Lettuce
Onions, sauteed in 1 tbsp. olive oil until soft
Red cabbage slaw
Alfalfa sprouts
Tomatoes, sliced
Roasted peppers
4 Hamburger Buns
For the Red Cabbage Slaw:
2 cups grated or finely sliced red cabbage
½ cup carrots, cut into matchsticks size or grated
1 tsp. white or apple cider vinegar
1 tbsp. olive oil
pinch of salt
Directions 
Prep: Prepare and heat the grill until temperature reaches about 350°F.
In a food processor, add all the mushroom burger patty ingredients and process until it's the consistency of a paste, does not have to be smooth.
Divide mushroom mixture and shape into 4 mushroom burger patties.
I prefer to use a cast iron on the grill, but you can also grill straight on the grate. Lightly grease the grate or cast iron with a little olive oil or canola oil.
Cook the mushroom burger patties for about 3 - 4 minutes on each side. If topping with cheese, add during the last minute of cooking.
Make the red cabbage slaw by combining the red cabbage, carrots, vinegar, olive oil, and salt. Mix and set aside until ready to serve.
Assemble: Simply top off hamburger buns with lettuce, mushroom burger patties, caramelized onions, red cabbage slaw, or your choice of ingredients. Serve and enjoy.
---