Dijon Roasted Broccoli, Cauliflower & Bacon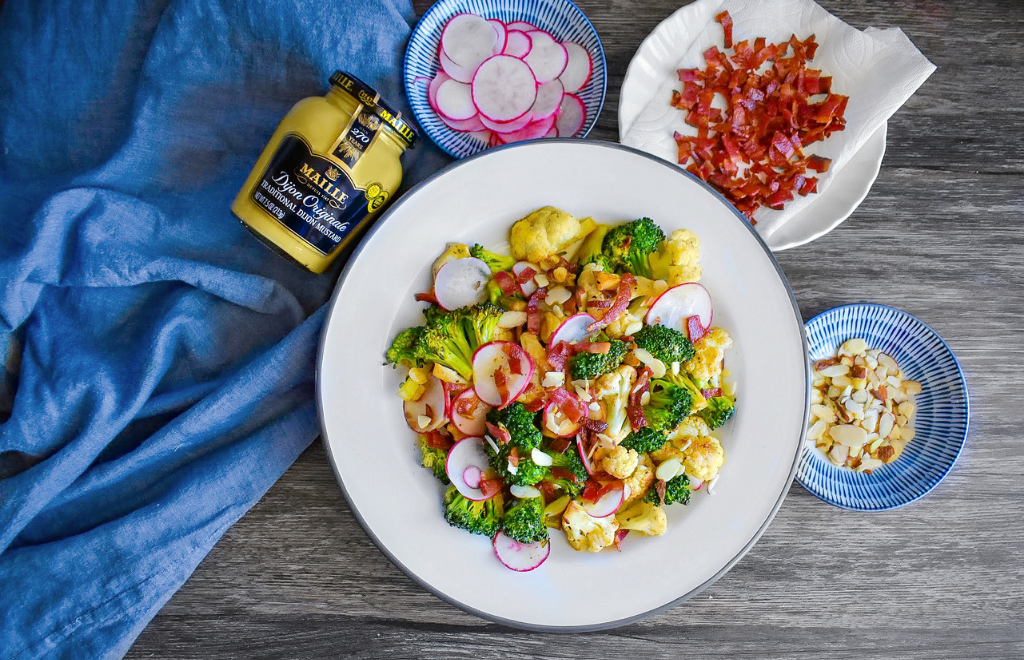 Recipe by: Easy Cooking With Molly
Serves: 4
Ingredients
1 Broccoli head - cut into bite size pieces
1 Cauliflower head - cut into bite size pieces
8 Slices Bacon - chopped into bite size.
8-9 Radish - sliced thinly
2 Limes - sliced
1 Tsp Lemon Seasoning
1 Tsp Salt - use as per taste
¼ Cup Slivered Almonds
2 Tbsp Olive Oil - for sauteing the bacon and roasting the veggies
Preparation
Heat a large pan and add 1 tsp oil.
Add the chopped bacon and saute till nicely brown and cooked. Takes about 2 minutes.
Once cooked, transfer the bacon to a clean plate for later use.
Heat the same pan, add remaining oil.
Add the chopped broccoli cauliflower and lemon seasoning.
Roast them for 3-4 minutes until they are 80% cooked (you want that slight crunch to remain).
Now, add the Maille Traditional Dijon Originale Mustard, cooked bacon, sliced lime and saute everything together.
Cook this on medium for a minute and then turn off the heat.
Add the sliced radish and slivered almonds.
Lightly mix everything using a fork (this prevent the veggies from mushing).
Transfer to a serving platter and enjoy.
Note: You can even make it a 'Stove to Table' dish and serve it in the same pan. Just wipe off any residual oil on top/side of the pan.
---