Duck, Chicory and Pomegranate Salad with Caramelised Pecans and a Maille dressing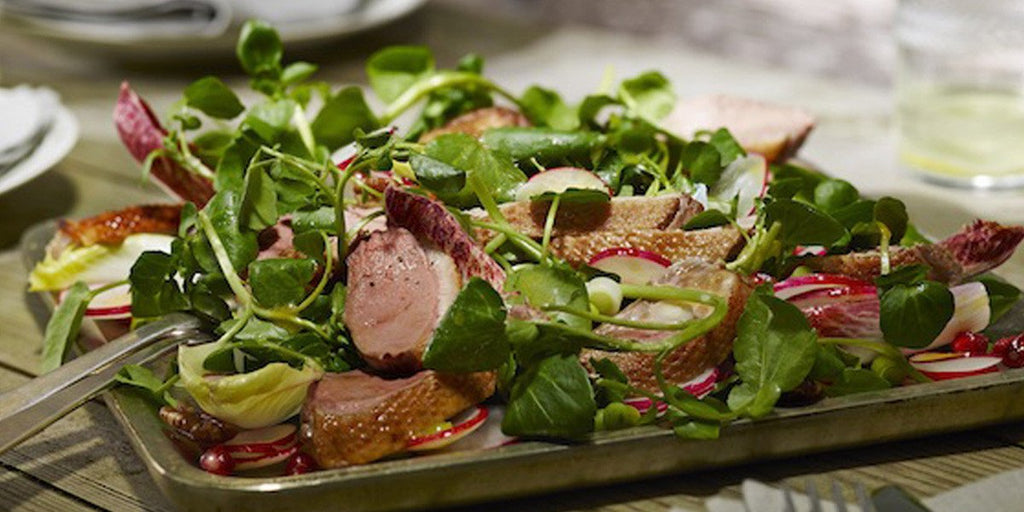 Ingredients
30g butter
4 duck breasts
2-3 heads chicory (red and green, preferably)
4 handfuls watercress
1 bunch spring onions, thinly sliced
100g radish, thinly sliced 
100g pecan nuts
2 tsp caster sugar
80g pomegranate seeds
Dressing
2 tbsp extra virgin olive oil
2 tbsp Maille hazelnut oil
Pinch of salt, sugar and freshly ground black pepper
Preparation
Preheat the oven to 200°C/fan oven 180°C/Gas Mark 6. Heat 20g butter in a frying pan and add the duck breasts, skin side down. Sear for a few moments, then transfer them to a roasting tin (skin side up) and roast for 20-25 minutes, or until done. Cover and leave to rest for 10 minutes.
Meanwhile, break the chicory into separate leaves and arrange on 4 serving plates with the watercress, spring onions and radish
Heat the pecans in a dry frying pan for 1-2 minutes, then add the remaining butter and sugar. Cook briefly to melt the butter and sugar, then remove from the heat after a few seconds when a little smoke begins to rise. Cool slightly, then add the sea salt.

Make the dressing by mixing together the olive oil, Maille hazelnut oil, Morel Mushroom and Chablis White Wine Mustard and Maille white balsamic vinegar. Season with a pinch of salt, sugar and freshly ground black pepper.

Slice the duck breasts and arrange on the salads. Scatter the pecans and pomegranate seeds over the top and drizzle with the dressing. Serve at once.  
Chef's tip
For a vegetarian option, use chunks of Blue Stilton cheese instead of duck breasts, or try slices of Halloumi cheese – dry-fried in a non-stick pan until golden
---