Easy Vegan Mushroom Crostini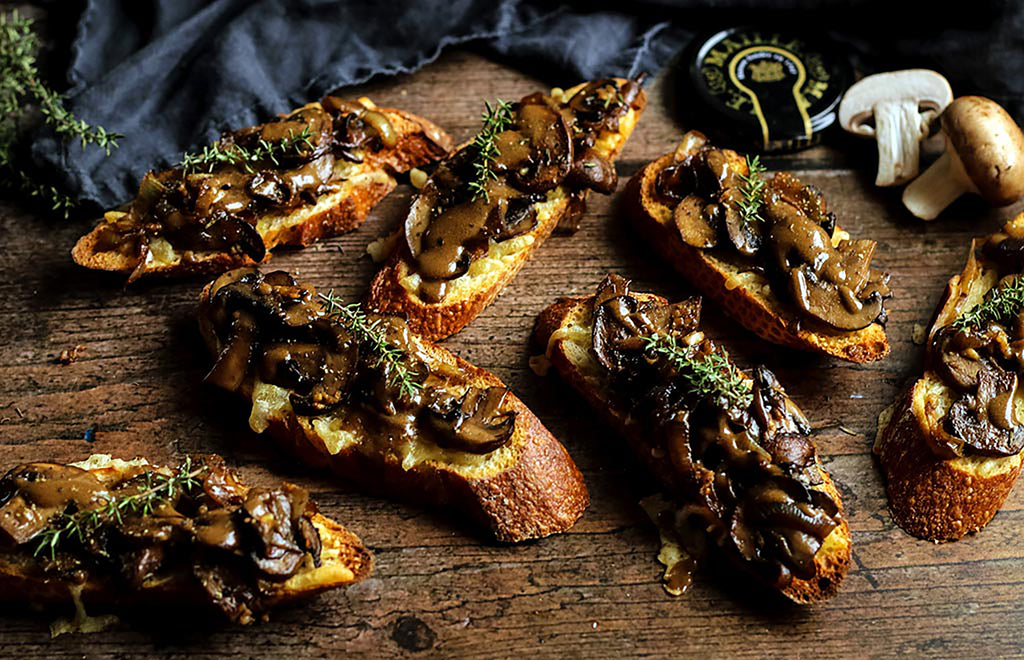 Recipe by: HappyKitchen.Rocks
Prep Time: 10 minutes
Cook Time: 20 minutes

Servings: 12 Crostini
Ingredients
For the Crostini:
2 Tbsp Olive Oil, Divided
1 ea. Large Onion, Sliced
1 tsp Sugar
1/2 tsp Salt
2 Tbsp Balsamic Vinegar
1 Lb Cremini Mushrooms, or any mushroom of choice
3-4 sprigs thyme divided (or 1 teaspoon dried thyme + 1 sprig fresh thyme to garnish)/li>
2-3 Garlic Cloves, Minced
1/2 Crusty Baguette
3/4 Cup Vegan Mozzarella Shreds
T.T. Salt and Pepper
For the Dressing (makes 1/2 cup):
Preparation
Heat 1 tablespoon olive oil in a large skillet (cast iron or nonstick) over medium high heat. Add the onions and stir fry for about 2-3 minutes until translucent. Add sugar, salt and balsamic vinegar and reduce the heat to medium. Continue cooking for 5 more minutes or until softened.
Add sliced mushrooms to the onions and increase the heat to medium high. Wait until they release liquid and cook, stirring occasionally, until the liquid is evaporated and mushrooms start to brown, for about 8 minutes.
Add minced garlic and 2 sprigs thyme (stems removed) or 1 teaspoon dried thyme and cook for 2 more minutes.
Preheat the oven to 400 F or 200 C. Slice the baguette straight across if you prefer smaller crostini or on the diagonal for larger and longer crostini (see pictures) with a serrated knife about 1/2-inch thick.
Arrange them on a baking sheet. Brush with 1 tablespoon olive oil and top with vegan mozzarella shreds.
Toast in the oven for about 5 minutes or until the cheese starts to firm on top and looks golden. If you are using stale baguette, use the broiling function of your oven instead and check the cheese after 3 minutes. Remove from the oven.
While the bread is toasting, make the balsamic mustard dressing. In a small bowl or pitcher, whisk together Maille Dijon Originale Mustard, extra virgin olive oil and balsamic vinegar.
Top the cheesy crostini slices with caramelized onion mushroom mixture and drizzle with the balsamic Dijon mustard dressing. Sprinkle with salt and freshly ground pepper to taste and garnish with fresh thyme. Serve warm or cold. Enjoy!
---