Eggplant and walnuts with couscous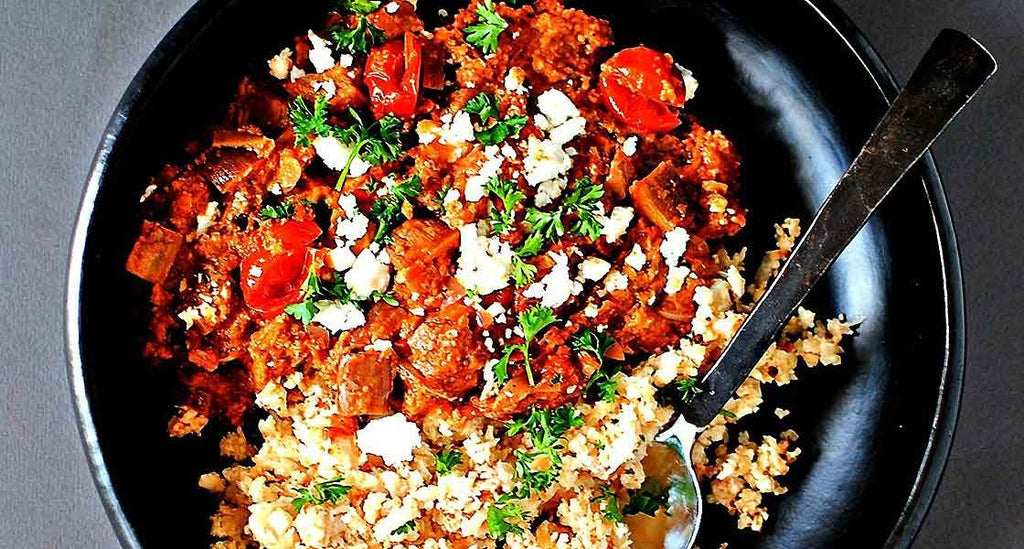 Ingredients
2 medium eggplant (about 2 lbs.), peeled, if desired, and cut into cubes
3 tbsp. Maille Walnut Oil
1 large head cauliflower, cored and broken into 4 chunks
⅓ cup vegetable stock, heated to boiling
1 tbsp. Extra Virgin Olive Oil
1 medium onion, thinly sliced
3 cloves garlic, finely chopped
1 ½ cups coarsely chopped walnuts (about 6 oz.)
1 ½ tsp. ground allspice
1 tsp. salt
1 tsp. freshly ground black pepper
1 tsp. ground cinnamon
½ tsp. sumac or grated lemon peel (optional)
1 tbsp. tomato paste
1 cup cherry tomatoes
1 cup water, stock OR water mixed with dry red wine
Juice of 1 lemon (about 3 tbsp.)
Preparation
*Also delicious served over hot cooked polenta, quinoa, rice or pasta.
Preheat oven to 350°. Spray 2 ½ sheet pans (16 ½ x 12 in.) with no-stick cooking spray; set aside.
Combine eggplant with Maille Walnut Oil and arrange in single layer on 1 prepared pan. Bake until eggplant is tender and golden, about 50 minutes.
Grate cauliflower using box grater or food processor into couscous-size pieces. Arrange in single layer on other prepared pan. Bake until lightly golden, about 35 minutes. Turn into medium bowl. Add stock and, if desired, ground nutmeg. Mash lightly; set aside.
Heat Olive Oil in large skillet and cook onion and garlic over medium heat, stirring frequently, until onion is almost tender, about 5 minutes. Stir in walnuts, spices and tomato paste. Cook, stirring frequently, 1 minute. Stir in cherry tomatoes, water and lemon juice. Bring to a boil over high heat. Reduce heat to low and simmer covered, stirring occasionally, until sauce is thickened, about 20 minutes. Stir in additional water if sauce is too thick. Stir in eggplant. Season to taste, stirring in a little honey or sugar if needed.
To serve
Serve warm eggplant mixture over cauliflower couscous*. Drizzle, if desired, with additional Maille Walnut Oil and garnish with chopped parsley or mint.
---