Everything Pretzels with Honey Mustard Dipping Sauce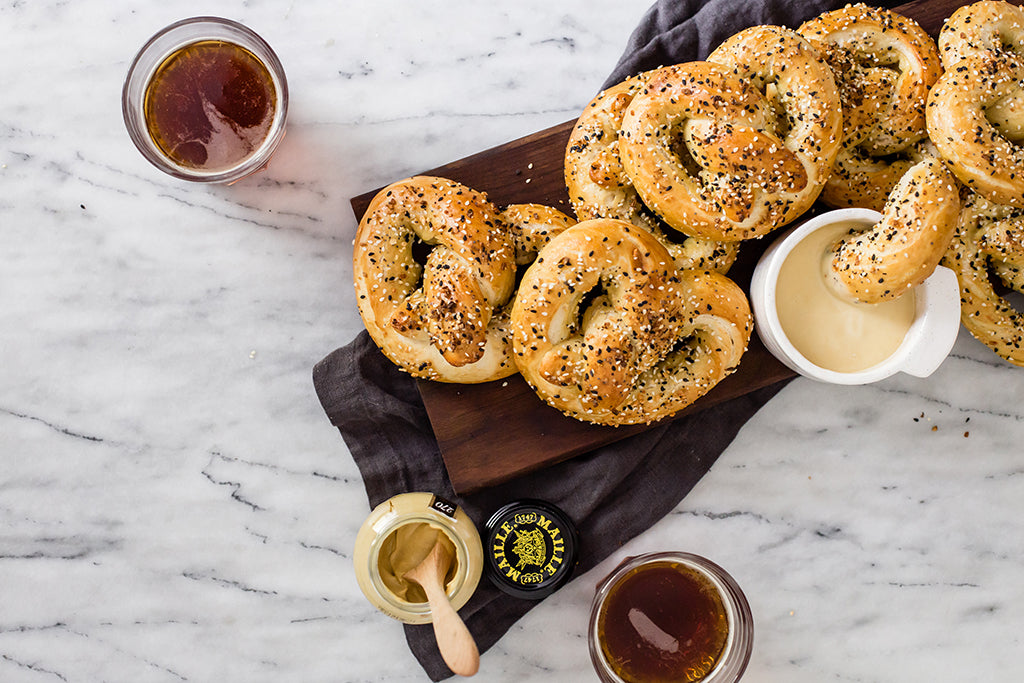 Recipe created by Madeline Hall
Makes: 8 pretzels
Ingredients
For honey mustard dipping sauce
1/2 cup mayonnaise
1 tbsp honey
Juice of half a lemon
For pretzels
1 1/2 cups warm water
2 tbsp brown sugar
2tsp salt
1 active dry yeast packet
4 1/2 cups flour
2 oz butter, melted
1/4 cup baking soda
1 egg beaten (for egg wash)
Everything bagel seasoning (or just coarse salt!)
Preparation
To make the honey mustard dipping sauce:
Whisk together Maille Dijon Originale Mustard, mayonnaise, honey, and lemon juice. Cover and refrigerate until ready to serve.
To make the pretzels:
In the bowl of a stand mixer fitted with dough attachment, combine warm water, brown sugar, and salt. Sprinkle yeast on top, and let sit for 5 - 10 minutes or until foamy.
Turn mixer on to low speed and add in the flour and melted butter. Stir on low until combined, and then increase speed to medium/medium-high for 4 - 5 minutes until dough pulls together into a ball and is smooth.
Dump dough out and shape into a ball. Lightly oil a large bowl and place dough inside. Cover with a kitchen towel or plastic wrap and sit on counter for 50 min - 1 hour or until doubled in size.
Line 2 large baking sheets with parchment paper.
Dump dough out onto a clean surface. Divide into 8 equal portions. Using your hands, roll a portion of the dough into a 20 inch rope. Form a "U"-shape with the dough rope. Bring the ends towards the middle and twist. Lightly press ends into the bottom, to form a pretzel. Set pretzel on a large baking sheet lined with parchment paper and repeat with remaining dough.
Preheat oven to 450°F.
Bring a large pot of water to a boil. Sprinkle in the baking soda.
Drop the pretzels into the boiling water, two at a time, for 30 seconds, making sure to dunk pretzels in the water a couple of times. Set aside on the second baking sheet lined with parchment paper. Repeat with remaining pretzels.
Brush the egg wash on top of each pretzel. Sprinkle generously with everything bagel seasoning (or course salt if not using). Bake in the preheated oven for 12 - 14 minutes or until tops are golden brown.
Serve with honey mustard dipping sauce!
Note: These taste best the day of. You can also reheat them slightly by popping them in the microwave for 15 seconds.
---