Maille Farro, Beets and Goat Cheese with Dijon Balsamic Vinaigrette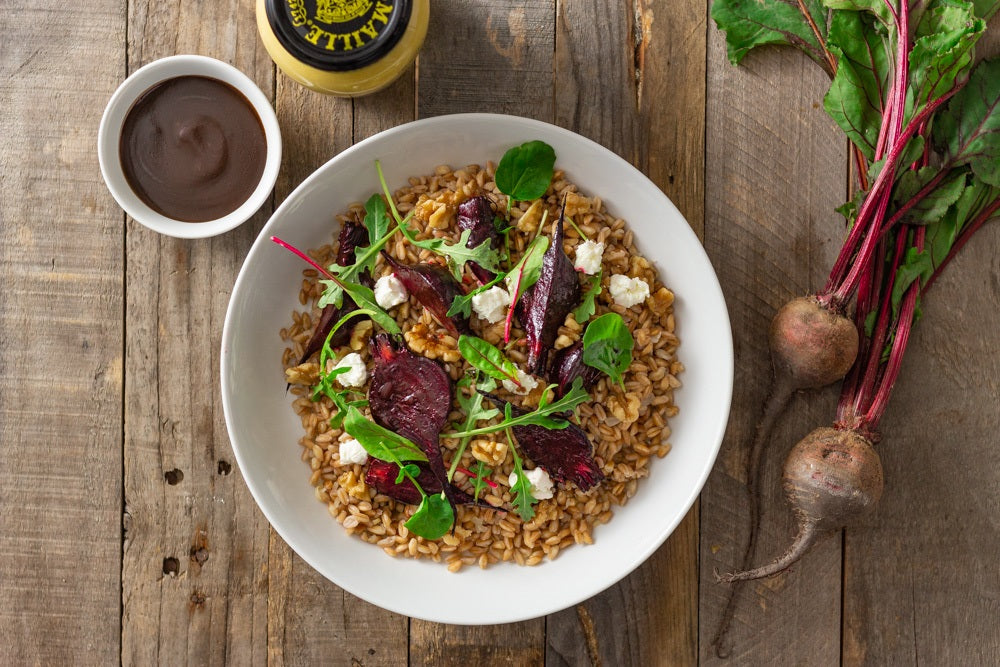 Recipe created by: mythreeseasons.com
Servings: 4
Ingredients
1 ½ cups farro
6 medium red beets (or 12 baby beets), greens removed
1 tbsp extra virgin olive oil
1 shallot, finely chopped
Salt, as needed
For the vinaigrette: 
½ cup extra virgin olive oil
3 tbsp balsamic vinegar
Salt, as needed
For the toppings:
½ cup mixed greens (such as baby arugula, baby chard & watercress)
2oz fresh goat cheese, crumbled
¼ cup toasted walnuts, roughly chopped
Preparation
Preheat oven to 400F. Wrap beets individually in foil and place on baking sheet. Bake about 40-50 minutes, or until tender. Baby beets will cook in approximately 25-30 minutes. If beets are cooked through, knife will easily slide in and out when inserted.
Allow beets to cool slightly. Peel off skin and cut into halves or wedges.
While beets cook, bring a medium pot of water to a boil. Add farro and cook according to package directions or until tender with a slight bite. Drain.
While farro cooks, warm a small pan over medium heat. Add one tablespoon of olive oil, followed by the chopped shallot. Season with salt. Cook about 4-5 minutes or until tender and translucent. Stir in cooked farro and season with salt. Remove from heat and cool to room temperature.
In a small bowl, whisk together vinegar and Maille Dijon Originale Mustard. Slowly incorporate olive oil while constantly whisking. Season with salt to taste.
Toss beets in half of the vinaigrette. Reserve remaining half for topping. Allow beets to cool to room temperature while marinating in dressing.
Place farro into serving bowls. Top with marinated beets, mixed greens, goat cheese and walnuts. Top with additional dressing, as desired.
---