Fennel Tart with Maille Parmesan and Basil Mustard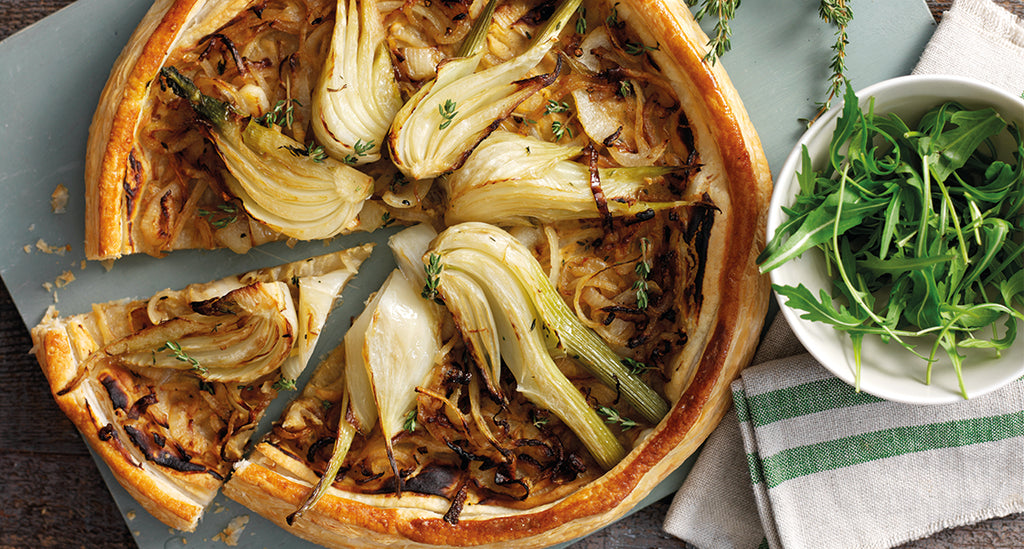 Offset the robust flavour of fresh seasonal fennel with delicate aubergine and aromatic rosemary to add a distinct touch to this light spring dish.
Ingredients
6 tbsp of olive oil
500g tender young fennel, cut into wedges
½ tsp picked fresh thyme
2 garlic cloves, finely chopped
2 medium onions, finely sliced
500g ready to roll puff pastry, thawed if frozen
Beaten egg or milk, to glaxe
Salt and pepper
Preparation
Preheat the oven to 220°C, fan oven 200°C, Gas Mark 6.

In a large frying pan, heat 3 tablespoons of olive oil. Gently fry the fennel wedges over a medium heat. Season with salt and pepper. When golden brown, add half a glass of water, the thyme and garlic. Cover with a lid and simmer for about 15 minutes. Remove from the heat, take off the lid and leave to rest.

In another pan, heat the remaining 3 tablespoons of olive oil. Add the sliced onions and cook gently. Cover with a lid and stir from time to time. Soften until golden brown - about 10 minutes. Season, then leave to cool.

Roll out the puff pastry on a lightly floured surface into a circle, and trim to 30cm in diameter with a sharp knife. Place on a baking tray lined with greaseproof paper. Score a 1cm border around the edge with a sharp knife.

Prick the base of the tart with a fork and spread the Maille mustard with Parmesan and Basil evenly over it. Scatter the onions over the base and arrange the fennel on top, like a flower. Sprinkle with the Parmesan cheese. Brush the pastry border with beaten egg or milk. Bake for 20 to 25 minutes until risen and golden. Serve hot and cut at the table.
The Maille Tip
Serve it with a herb salad made of basil, chives and parsley. Toss in a little bit of vinaigrette and enjoy!
Try replacing the fennel with roasted yellow and red peppers for a delicious alternative.
---