Filet Mignon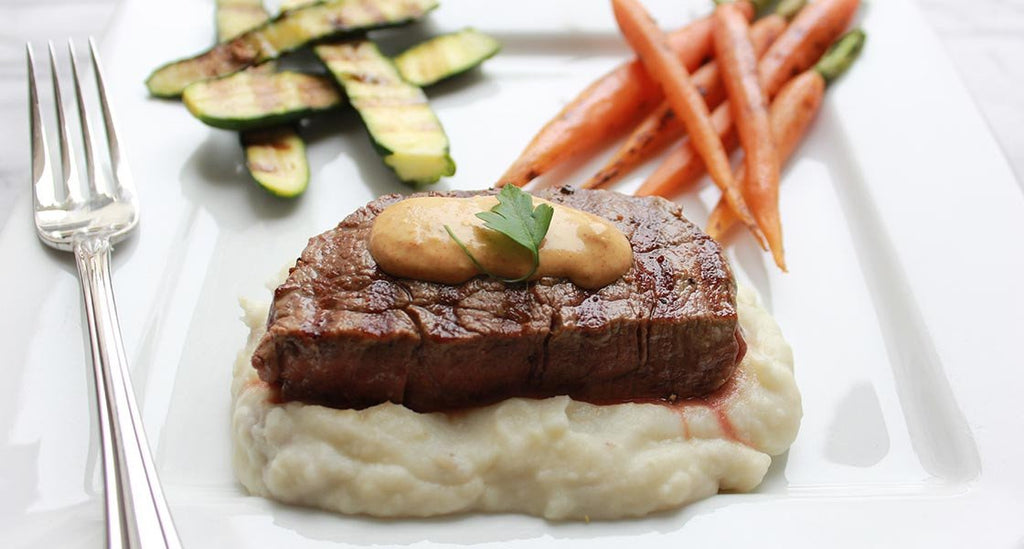 Ingredients
2 medium filet mignon around 5oz each
2 medium Yukon Gold potatoes, peeled if desired, washed, and cut into 1-inch cubes
Salt to taste
1 tbsp. unsalted butter
½ cup shredded aged cheddar cheese
1 tbsp. Maille Old Style mustard
Freshly ground black pepper
3 tbsp. Maille Horseradish mustard
2 tbsp. of plain Greek yogurt
3 dashes of Worcestershire sauce
⅛ tsp. smoked paprika
⅛ tsp. of ground cayenne pepper (optional)
Two pinches of salt
10 baby zucchini, washed and sliced in half
10 baby carrots, washed
Olive oil
Salt and Pepper
Preparation
Bring medium saucepan with cold water and 1 tablespoon salt to a boil over high heat. Add potatoes, reduce heat to medium and simmer uncovered until potatoes are tender, about 12 minutes; drain reserving ½ cup of cooking water.
Combine cooked potatoes, salt, butter, cheese, Maille Old Style mustard and black pepper in large mixing bowl. Add ¼ cup reserved cooking water. Beat until creamy. If the mixture is too dry, add additional cooking water to reach desired consistency. Season, if desired with additional salt, pepper, butter and/or cheese; keep warm.
Meanwhile, combine Maille Horseradish mustard, yogurt, Worcestershire sauce, paprika, cayenne in small bowl with wire whisk; set aside.
Arrange vegetables in shallow baking dish and drizzle with olive oil, salt and freshly cracked pepper. Toss to coat.
Heat grill pan over high heat. Once hot, add a drizzle of olive oil, then add vegetables. Cook, allowing vegetables to show grill marks from the pan before flipping or rolling them over. Repeat until all sides are nicely grilled. Remove and tent with foil until ready to serve; keep warm.
Grill steaks to the desired doneness. Remove from grill and tent with aluminum foil; let stand 3 to 4 minutes.
To serve
Top steak with a heaped tablespoon or two of sauce.Serve with Cheddar Mashed Potatoes and garnish with Grilled Vegetables.
---