Flower Salad with Asparagus and Maille tarragon Dressing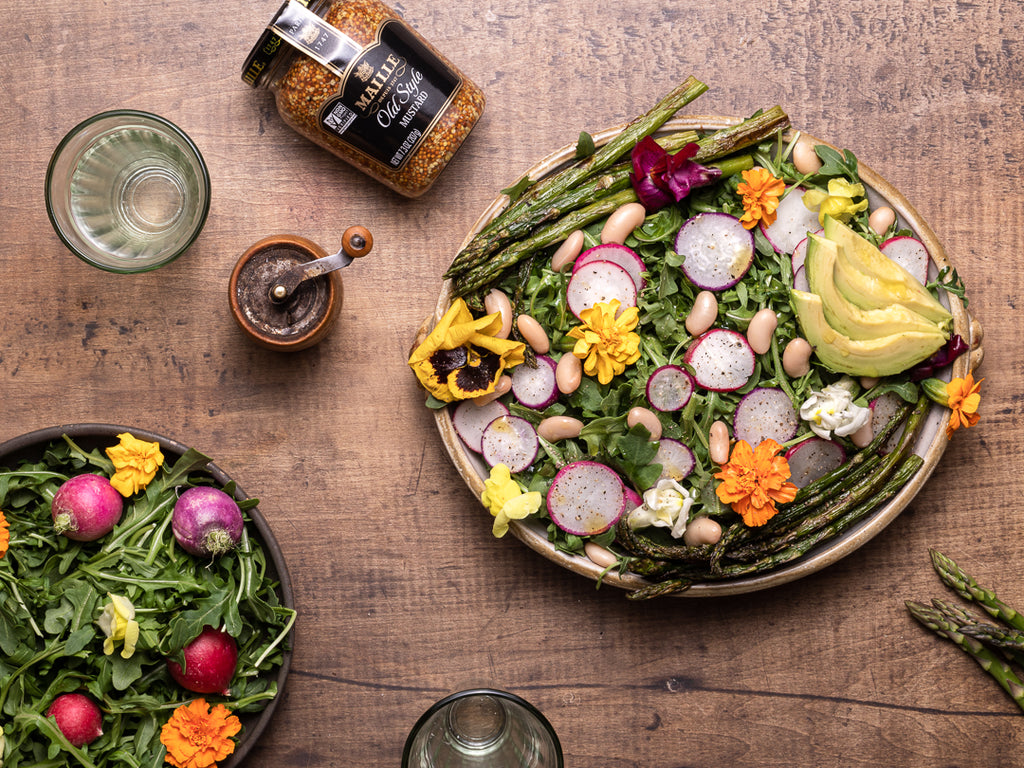 Prep Time: 10 minutes
Cook Time: 5-10 min
Servings: 5
By:
FlaxandSugar 
Ingredients
For the Salad:
3 cups of arugula
20 stalks of asparagus
1/4 cup cannellini beans
1/4 cup edible flowers
1/4 cup radishes, sliced
1 tsp extra virgin olive oil
1 ea. avocado, sliced
For the Creamy Tarragon Mustard Dressing:
1/4 cup extra virgin olive oil
2 tablespoons Maille Old Style Mustard
2 tablespoons lemon juice
1/8th teaspoon lemon zest
2 tablespoon white wine vinegar
2 tablespoons maple syrup
1/2 teaspoon black pepper
3/4 teaspoon tarragon, dried
1 tablespoon garlic, minced
1/4 teaspoon salt
1 1/2 tablespoons water
Preparation
For the Dressing:
Combine all of the ingredients for the dressing into a small blender and blend at high speed until smooth and creamy.
For the Salad:
First, wash and slice the veggies. Making sure to rinse the arugula as well before use.
After the ends of the asparagus stalks are cut off, place 1 teaspoon of extra virgin olive oil in a pan and sauté the asparagus until cooked. I like to keep them firm but with a nice char on them! /li>
Layer the arugula in a large bowl and top with sliced radishes, beans, grilled asparagus, and edible flowers.
Drizzle the salad with creamy tarragon mustard dressing.
Garnish with sliced avocado, fresh cracked pepper, and enjoy!
---