Fresh Pasta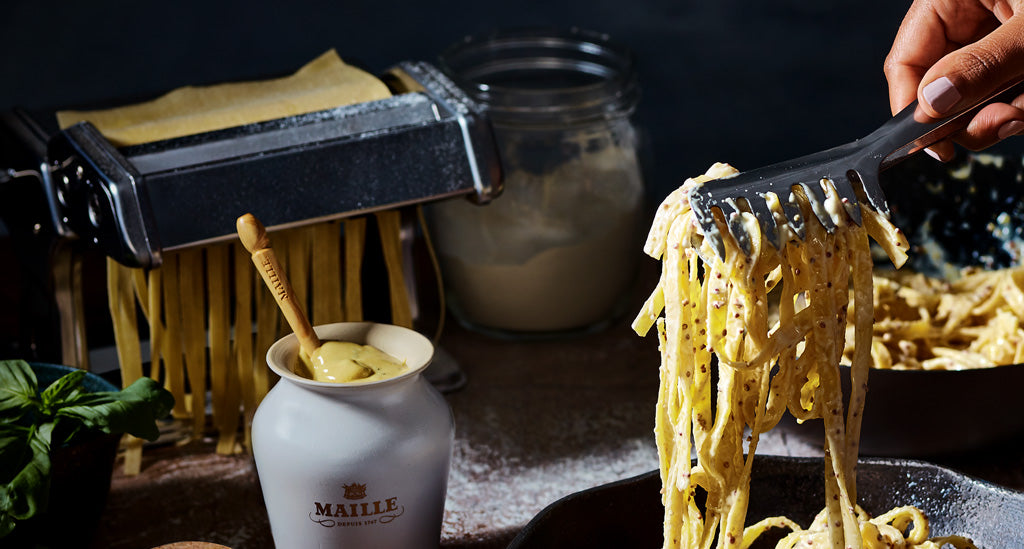 Recipe by: Harry Lalousis
Prep Time: 55 minutes
Cook Time: 5 minutes
Servings: 4
Nothing beats making pasta from scratch in your own kitchen, time to put that pasta maker to the use!
Preparation
Place the Flour on a flat surface and make a shallow well in the middle, add the eggs, mustard and salt in the well
With a fork slowly combine the wet ingredients together and start pulling flour from the sides of the well, when you feel that it is incorporated enough that it will not run, start to knead the dough together. Try stretching the dough with the back of your palm, fold over and repeat until the dough is no longer crumbly and look homogenised. (if the dough looks dry, wet your hands and continue kneading)
Place the dough in plastic wrap in the fridge for 30 minutes.
Remove the dough from the fridge, remove the plastic wrap and set your pasta maker on the bench, the pasta maker usually has thickness from 1-9, start with 1, split the dough in 4 parts, flatten each part of the dough with your palms and pass it through number 1 setting, fold the dough and pass it through again, repeat until number 3, flouring your dough in between if it seems to stick, From number 4 you can start passing through once, we suggest to go up to number 7 for Tagliatelle.
Place the processed dough on a flat surface and cut in strips of 2 cm each for tagliatelle and 4cm each for Papardelle, boil in boiling water for about 3-4 minutes for al dente.
Hints and Comments
Comments You can ratio the recipe for more or less pasta, the ratio is 1 medium egg to 100 grams of pasta and that is usually for one person. Always make your sauce before you boil your pasta and always cook the pasta in the sauce before serving.
---