Glazed Duck Breast with Roasted Root Vegetables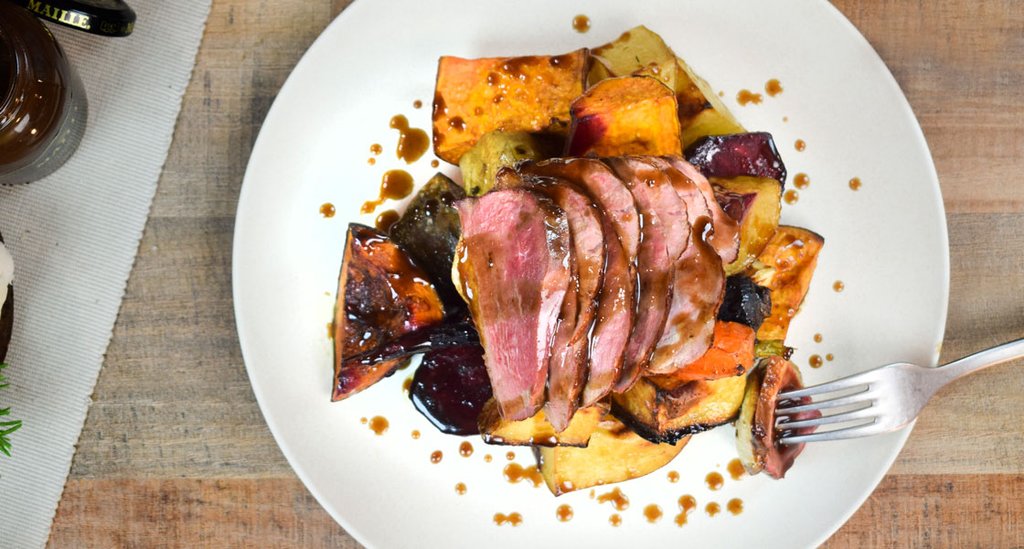 Ingredients
Orange and purple carrots
Parsnips
Turnips
White and sweet potatoes
Butternut squash
1 duck breast
Honey
Olive Oil
Thyme
Rosemary
Salt & pepper to taste
Preparation
Preheat the oven to 200°C.
Cut the root vegetables into big chunks, season abundantly with salt, olive oil, Maille Balsamic Vinegar, honey, thyme, rosemary and 1 tbsp. of Maille mustard with Honey and Balsamic Vinegar. Bake at 200°C for 30 minutes.
Carve the duck breast skin with a knife and roast it in a pan, skin side first, for 6-8 minutes. Smear the breast with a glaze made of honey, Maille balsamic vinegar and Maille mustard with Honey and Balsamic vinegar.
Once the duck breast is fully glazed, slice it and serve with the roasted root vegetables.
Maille Tip
Decorate the dish by drizzling the remaining glaze.
---