Gravadlax of Salmon with Lime Sorbet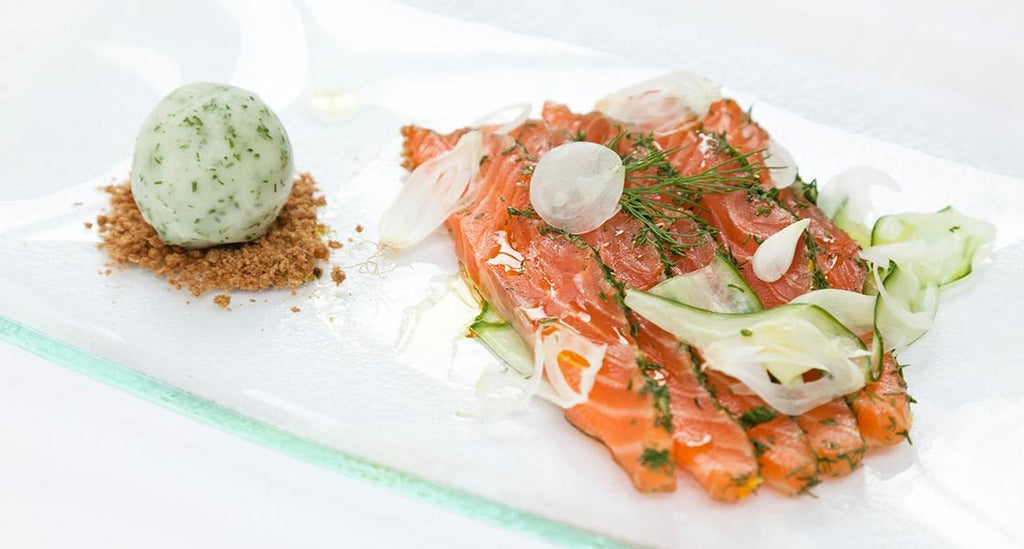 Ingredients
1 large orange
1 medium lemon
¼ cup coarse sea salt
¼ cup firmly packed light brown sugar
1 tbsp. coriander seeds, crushed
1 tsp. white peppercorns, crushed
2 bunches dill, chopped (divided)
2 lb. skin-on salmon fillets, pin bones removed
½ cup water
1 ½ cups sugar
1 cup fresh lime juice (about 8 to 10 limes)
1 tbsp. chopped dill
Splash of tequila
½ cucumber, peeled into thin strips
1 medium head fennel, trimmed and peeled into thin strips
Galton Blackiston
Galton Blackiston is an English chef, born in Norfolk. Morston Hall where Galton resides has been recognised as both a great English hotel and restaurant and named in the top 100 restaurants in the UK. Galton has held a Michelin star for 14 years and become UK Craft Guild of Chefs 'Chef of the year', East Anglian Chef of the Year and fellow of the craft guild of chefs.
Preparation
Grate peel from orange and lemon and squeeze to get juices; set aside.
Combine sea salt, brown sugar, coriander seeds, peppercorns, 1 bunch chopped dill and orange and lemon peel in medium bowl. Spread ½ of the salt mixture into non-aluminum baking dish. Add salmon, skin side down, then top with remaining salt mixture. Cover and refrigerate 24 hours, turning at least once.
Bring ½ cup water and sugar to a boil in medium saucepan, stirring to dissolve sugar. Remove from heat, then stir in lime juice, 1 tablespoon dill and tequila; let cool. Process in ice cream maker according to manufacturer's directions. Keep frozen until ready to serve.
Remove salmon from salt mixture, reserving liquid. Rinse salmon to remove any remaining salt; pat dry and set aside.
Combine remaining 1 bunch chopped dill, orange and lemon juices and Maille Dijon Originale mustard in small bowl.
Return salmon to baking dish with liquid, skin-side down, then brush with Mustard mixture.
Cover and refrigerate an additional 48 hours, basting salmon with Mustard mixture every day.
To serve
Remove salmon from Mustard mixture and thinly slice.  Serve with cucumber, fennel and lime sorbet.
---