Grilled Broccoli Salad with Honey Mustard Dressing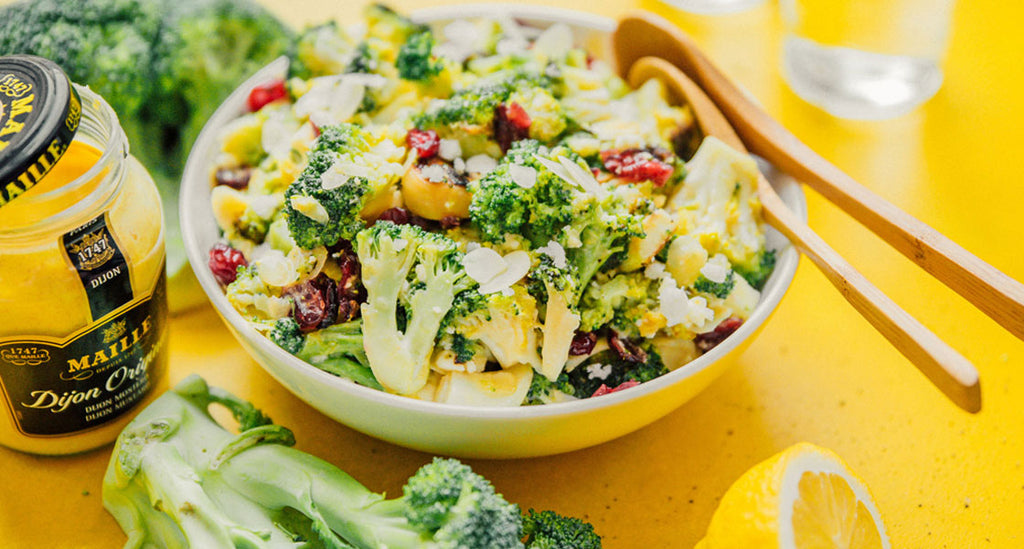 Recipe by: Sarah Bond of Live Eat Learn
Servings: 4
Ingredients
For Grilled Broccoli Salad:
1 head broccoli
4 cloves garlic
1 tbsp olive oil
¼ cup dried cranberries
¼ cup crumbled feta cheese
¼ cup slivered almonds
For Honey Mustard Dressing:
2 tbsp olive oil
2 tbsp fresh lemon juice + 1 tsp zest
1 tbsp honey
Salt and pepper, to taste
Directions 
Dressing: Whisk together all Honey Mustard Dressing ingredients until smooth. Taste and adjust seasonings as needed.
Prep: Chop broccoli into florets, then set on a large sheet of aluminum foil. Throw on the garlic (peeled but not minced) and drizzle with oil. Cover with more foil and pinch together to form a sealed pouch.
Grill: Set broccoli pouch flat on a heated grill set to medium/high heat. Cook for 5 minutes, flip, then cook another 5 minutes. Broccoli should be tender with a few slightly charred spots.
Assemble: Roughly chop broccoli into bite-sized pieces, then mix together with cranberries, feta, and almonds in a large bowl. Toss with half of the Honey Mustard Dressing, taste, and add more dressing as desired.
---