Grilled Dijon BBQ Pork Sliders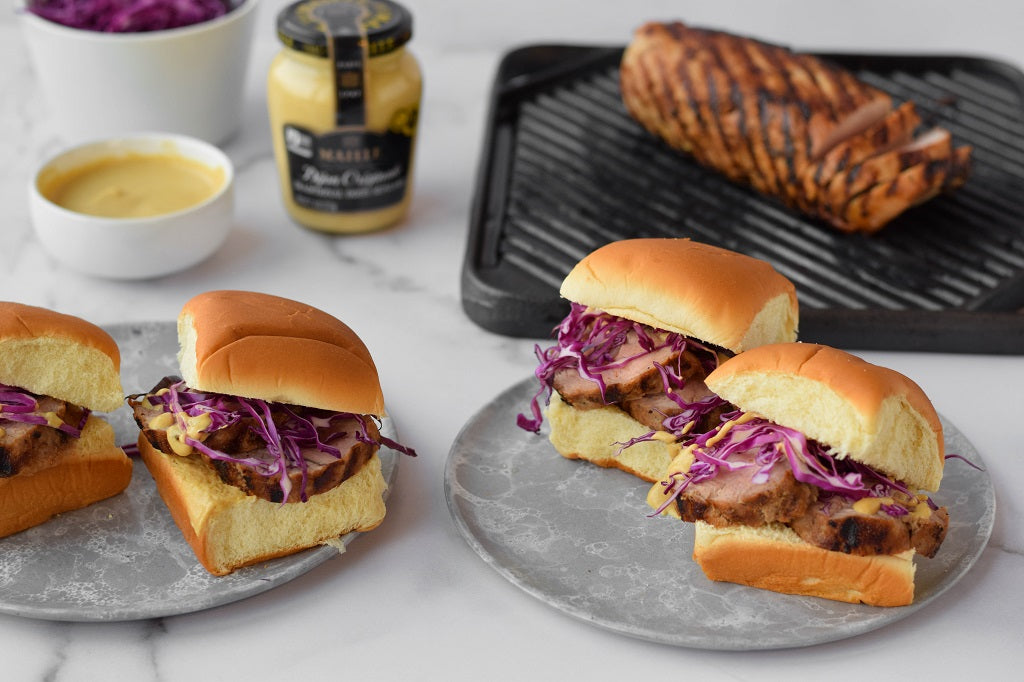 Recipe by: Kitchen Curious
Yields: 6 sliders
Ingredients
1 ½ tbsps Apple Cider Vinegar
1 tbsp Worcestershire Sauce
1 tsp Garlic Powder
1 Pound Pork Loin
1 tbsp Salt
1 tbsp Ground Mustard
1 tbsp Garlic Powder
Red Cabbage, thinly sliced
Hawaiian Bread Rolls
Preparation
Prep: In a bowl, whisk together the Maille Traditional Dijon Originale Mustard, Apple Cider Vinegar, Worcestershire Sauce, and Garlic Powder. Whisk until the sauce is fully combined and refrigerate until ready to use. The longer you refrigerate, the more the flavors will blend together.
Grill: Preheat a BBQ grill or a grill pan to medium heat. Grill the pork loin for 6-8 minutes on each side, using metal tongs to flip the pork. Making sure to get great grill marks on the pork and cook until the pork has an internal temperature of 150-160 degrees. Once cooked, remove from the grill and let the pork rest for 10 minutes before slicing.
Assemble: When you are ready to assemble the sliders, slice the pork into half inch slices. Spread the Maille Dijon Originale Mustard sauce onto both the top and bottom of the Hawaiian bread rolls, then place two pork slices onto the roll. Top with thee sliced red cabbage and add another dollop of the Maille Dijon Originale Mustard sauce on top.
---