Grilled Pocket Potato Salad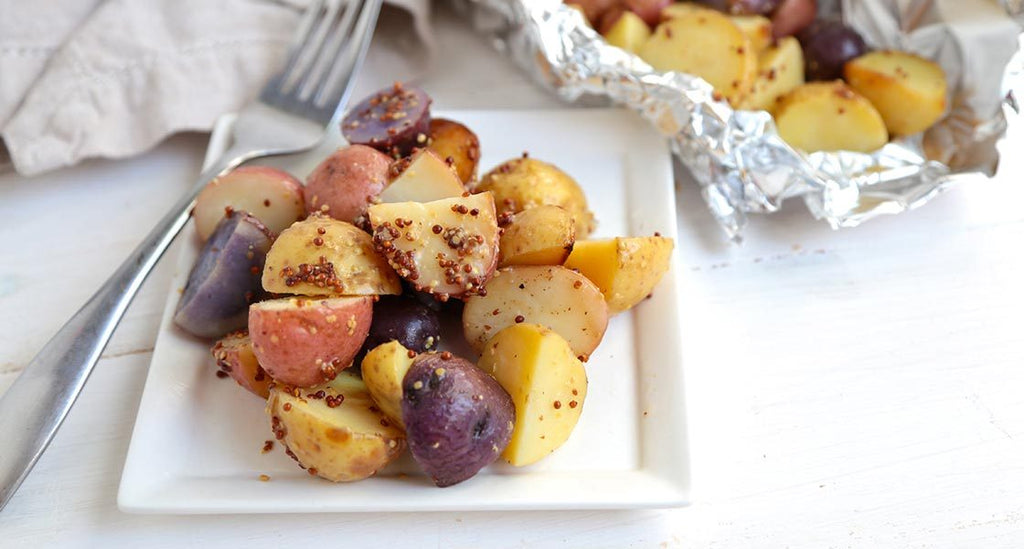 Ingredients
1 lb. tri-colored baby potatoes, quartered
¼ cup garlic olive oil or olive oil
Salt and pepper to taste
3 tbsp. Maille Old Style mustard
¼ cup apple cider vinegar
2 cloves garlic, minced
½ tsp. grated lemon peel
Preparation
Preheat grill to medium heat.
Toss potatoes with olive oil in medium bowl, then sprinkle with salt and pepper to taste.
Arrange potatoes in center of 30 x 18-inch piece heavy-duty aluminum foil. Wrap foil loosely around mixture, sealing edges airtight with double fold. Place on another 30 x 18-inch sheet of foil; seal edges airtight with double fold in opposite direction.
Grill, shaking package occasionally and turning once, until potatoes are tender, about 15 minutes.
Meanwhile, combine remaining ingredients in small bowl.
Remove package from grill. Carefully open and pour dressing over potatoes. Gently wrap edges of foil and gently toss.
To serve
Unwrap and serve out of the foil packets.
Chef's tip
Roasting and tossing the potatoes with dressing in the disposable foil pocket makes for super easy post-dinner clean up.
---