Grilled Potato Salad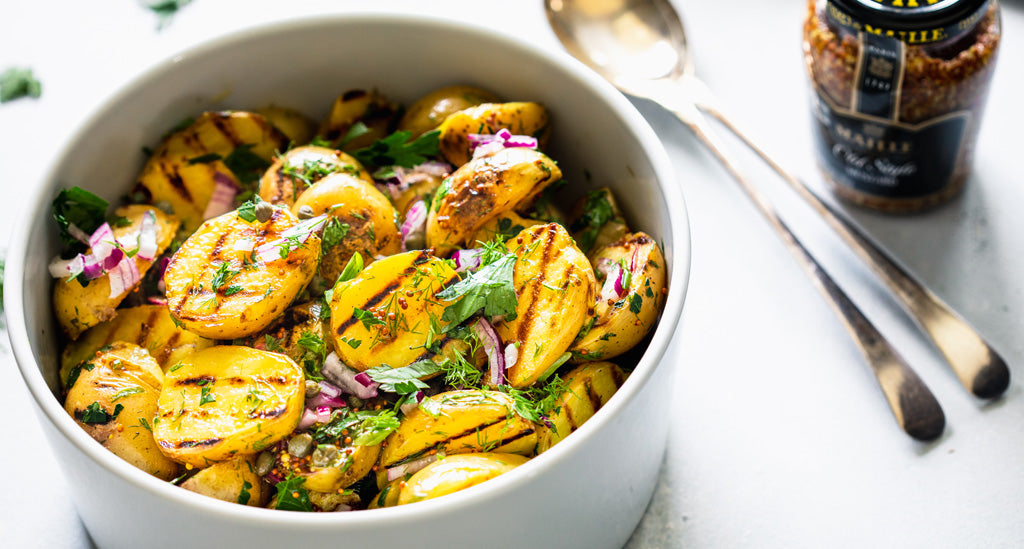 Recipe by: Platingsandpairings
Serving size: 4
Ingredients
3 pounds baby yukon gold potatoes
½ cup olive oil + 2 Tablespoons olive oil (divided)
¼ cup red wine vinegar
3 Tablespoons Maille Old Style Mustard
½ bunch scallions chopped
½ small red onion chopped
½ cup chopped parsley
¼ cup chopped dill
2 Tablespoons drained capers
Salt and pepper
Preparation
Preheat the grill to high.
Add the potatoes to a large pot of salted boiling water and cook for 8 minutes, until just tender.
Drain the potatoes, and when cool enough to handle, cut in half lengthwise.
Toss with 2 Tablespoons olive oil. Place on the hot grill and allow to cook for 3-5 minutes, until slightly charred. Let cool slightly.
Meanwhile, prepare the dressing. Whisk together ½ cup olive oil, vinegar, and mustard.
Toss cooled potatoes with dressing, scallions, onion, parsley, dill and capers. Season with salt and pepper to taste. Enjoy!
---