Grilled Potato Salad with Charred Corn and Scallions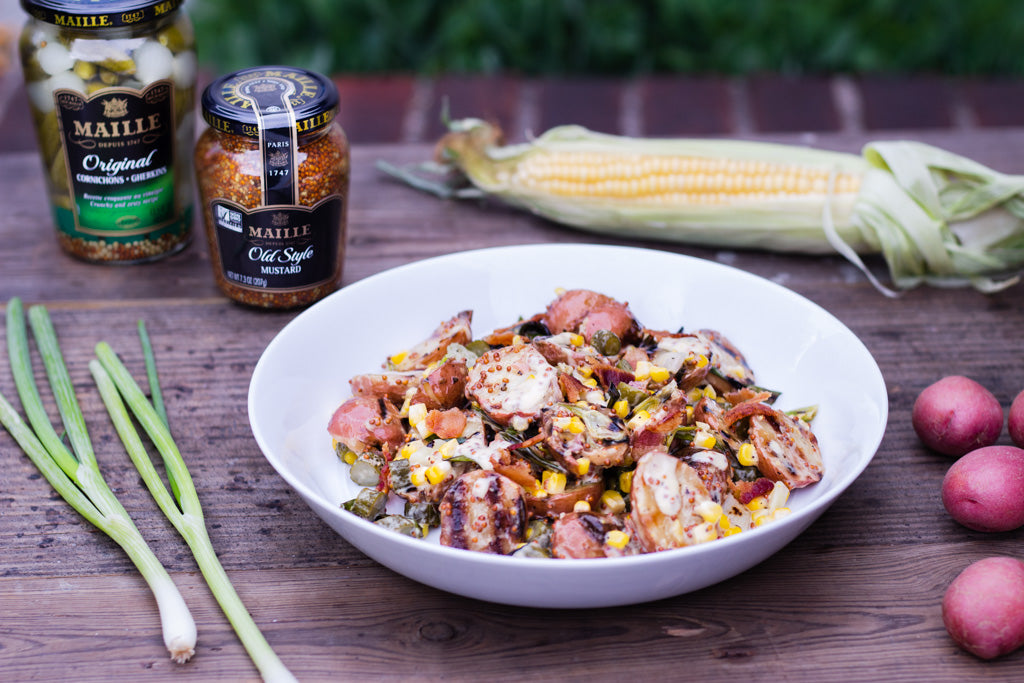 Recipe by: My Three Seasons
Servings: 6-8
Ingredients
For the grilled potato salad:
2lbs baby red potatoes
4 slices bacon
2 ears corn, shucked
10 scallions
½ cup Maille Mini Cornichons Classique, chopped ½ inch thick
Olive oil, as needed
Kosher salt
For the dressing: 
¼ cup Maille Old Style Mustard
3 tbsp mayonnaise
¼ cup extra virgin olive oil
4 tsp sherry vinegar
Kosher salt and fresh cracked pepper
Preparation 
Boil potatoes:
Place whole potatoes in a large pot. Cover by two inches with room temperature water. Place on stove top, cover pot and bring to a boil. Reduce to a simmer and cook 10-15 minutes or until tender. Drain and cool slightly. Slice in half.
Cook bacon:
While potatoes boil, place bacon in a large nonstick pan. Turn heat to medium. Cook, turning frequently, until crispy, about 12-15 minutes. Reduce heat, as needed, to prevent burning. Transfer to a paper towel lined plate.
Grill vegetables:
Heat outdoor grill or indoor grill pan over medium-high heat. Coat cut potatoes, cobbs of corn and whole scallions with olive oil. Season with salt. Place potatoes on grill, cut-side down. Place corn and scallions on grill. Cook potatoes 3-4 minutes on first side or until browned, flip and cook an additional 3-4 minutes. Turn corn every 2 minutes until browned on all sides and cooked through, about 10-12 minutes. Grill scallions for 2-3 minutes per side, or until charred and tender.
Mix dressing:
While vegetables are grilling, mix dressing. In a bowl, whisk together Maille Old Style Mustard and mayo. Slowly stream in olive oil while whisking. Stir in vinegar. Season with salt and pepper to taste. Refrigerate until ready to use.
Chop vegetables: Cut corn off the cobb. Trim and discard scallion roots. Chop scallions into ½ inch pieces.
Assemble:
In a large bowl, combine potatoes, corn, scallions, Maille Mini Cornichons Classique and dressing. Toss to combine. Season with additional salt and pepper, if needed.
---