Grilled Red Cabbage and Bratwurst Sandwiches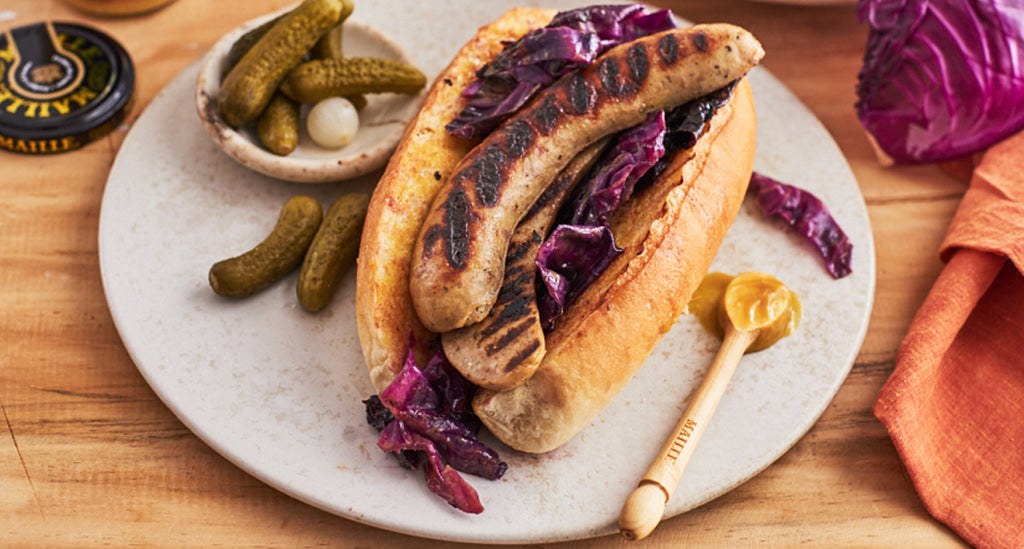 Recipe by: Jen May
Prep Time: 10 minutes
Cook Time: 10 minutes
Servings: 4
Ingredients
1 tbsp. olive oil
¼ small head red cabbage, separated into leaves
4 bratwurst, about 3 oz. each, halved lengthwise
4 long Italian rolls or long pretzel rolls, split
Preparation
Preheat well-oiled grill to medium-high
Combine Maille® Honey Dijon Mustard with olive oil in small bowl. Brush some of the mixture on both sides of cabbage and bratwurst. Grill cabbage and bratwurst, turning once, until cabbage is slightly charred and bratwurst is cooked, about 8 minutes.
Grill split rolls until slightly toasted. Remove from grill and brush with remaining mustard mixture. Fill rolls evenly with cabbage and bratwurst. Serve, if desired, with Maille® cornichons.
---