Grilled Vegetables and Mustard Sauce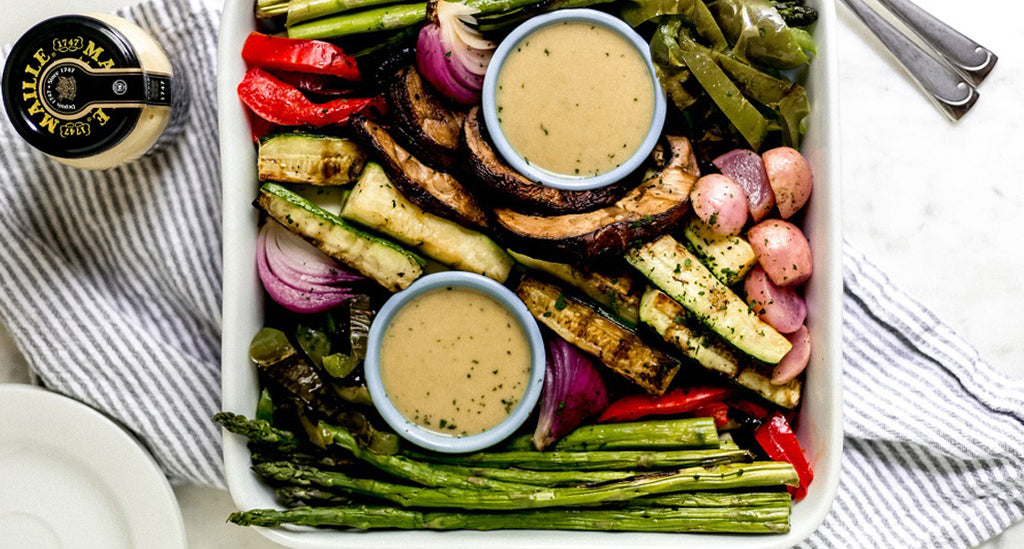 Recipe by: Simply Lakita
Prep Time: 10 minutes
Servings: 4
Ingredients
For the grilled vegetables:
asparagus
onion
zucchini
bell pepper
mushroom
radish
For the mustard sauce:
⅓ cup Maille Dijon Originale
¼ cup honey
¼ cup mayonnaise
1 tbsp. white distilled vinegar
¼ teaspoon ground black pepper
Preparation
Fire up the grill! - If using charcoal, concentrate the coals on one side of the grill for direct heat, while leaving the other side empty for indirect heat. If using a gas grill, turn on one side, while leaving the other side off. Remember different vegetables will cook at different times and different temperatures. This is the best way to maximize your time at the grill by cooking multiple vegetables at the same time.
Preparing the vegetables - Wash and cut the vegetables into large pieces so they won't fall through the grates of the grill. You can cut the vegetables into smaller pieces after grilling.
Don't forget the accessories - If using a grill pan, be sure to preheat it along with your grill. If you don't have a grill pan, then foil packets and skewers are the next best thing. For the foil packets, use two pieces of foil (double lined) one on top of the other before adding smaller vegetables such as radishes. For skewers, I find that using two makes flipping easier and serves as a great backup to keeping veggies, such as asparagus, from falling through the grates. Skewers can be metal or wooden. Wooden skewers need to be soaked in water prior to using to prevent burning.
Grill those veggies! - Be sure not to overcrowd the grill or the vegetables will steam instead of charring. Charring is definitely what we want.
For the sauce: Using a small bowl, whisk all ingredients together until smooth. Store in the refrigerator in an airtight container up to seven days.
---