Ham, Cheese & Dijon Pinwheel Puffs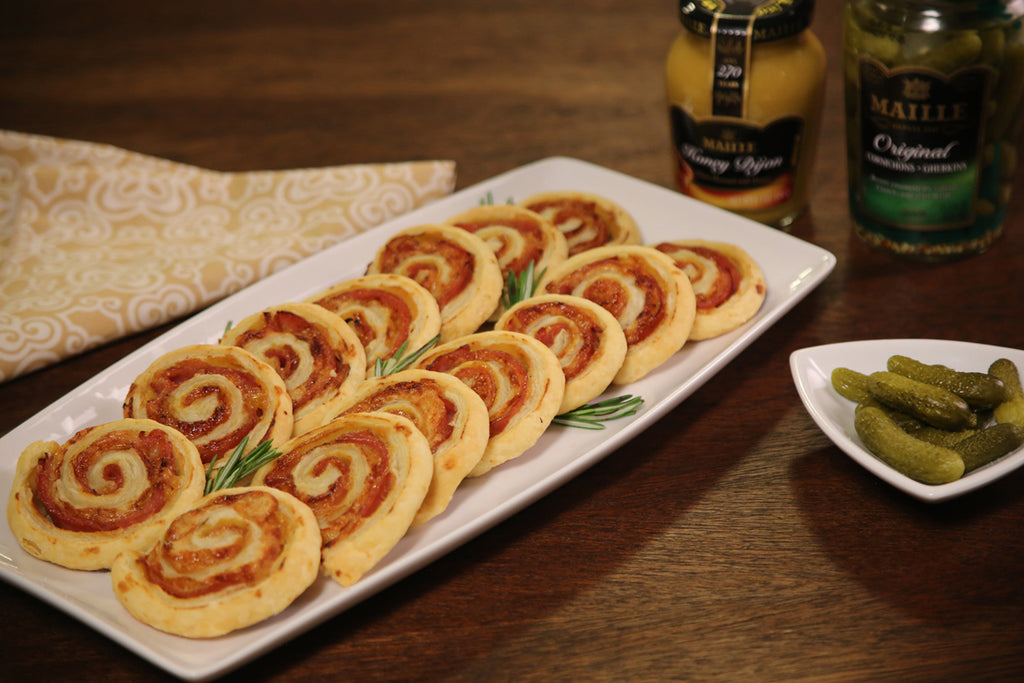 Recipe developed by: Fine Cooking
Makes: about 22 pinwheels
Prep time: 15 minutes plus 15 minutes to chill
Cooking time: 25 minutes
Ingredients
Flour for dusting
1 sheet frozen puff pastry (about 8.5 ounces), thawed overnight in the refrigerator
3 tablespoons Maille Honey Dijon mustard
6 to 7 ounces thinly sliced deli ham (7-8 slices)
1 cup shredded Gruyere or Comté cheese
Freshly ground black pepper
Preparation
On a lightly floured piece of parchment paper, roll out the puff pastry into a 10x14-inch rectangle. Using a fork, prick holes all over the dough. Spread the Maille Honey Dijon mustard evenly over top. Arrange the ham over the dough, overlapping it slightly as needed, and leaving a ¼-inch border on both long ends. Scatter the shredded cheese evenly over the ham, and season with freshly ground black pepper.
Starting at a long end, roll the puff pastry into a tight log using the parchment as leverage. Press the edges together to seal. Wrap the log in plastic wrap, and refrigerate it, seam side down, for 15-30 minutes.
Preheat the oven to 375˚F with racks in the upper and lower thirds. Line 2 large baking sheets with parchment paper.
Using a sharp knife, cut the puff pastry log into ½ inch slices. Arrange the rolls on the prepared baking sheets, spacing them 1-2 inches apart. Bake until golden brown, rotating and switching the pans halfway through, about 25 minutes. Let cool slightly. Serve warm.
---