Hasselback Potatoes recipe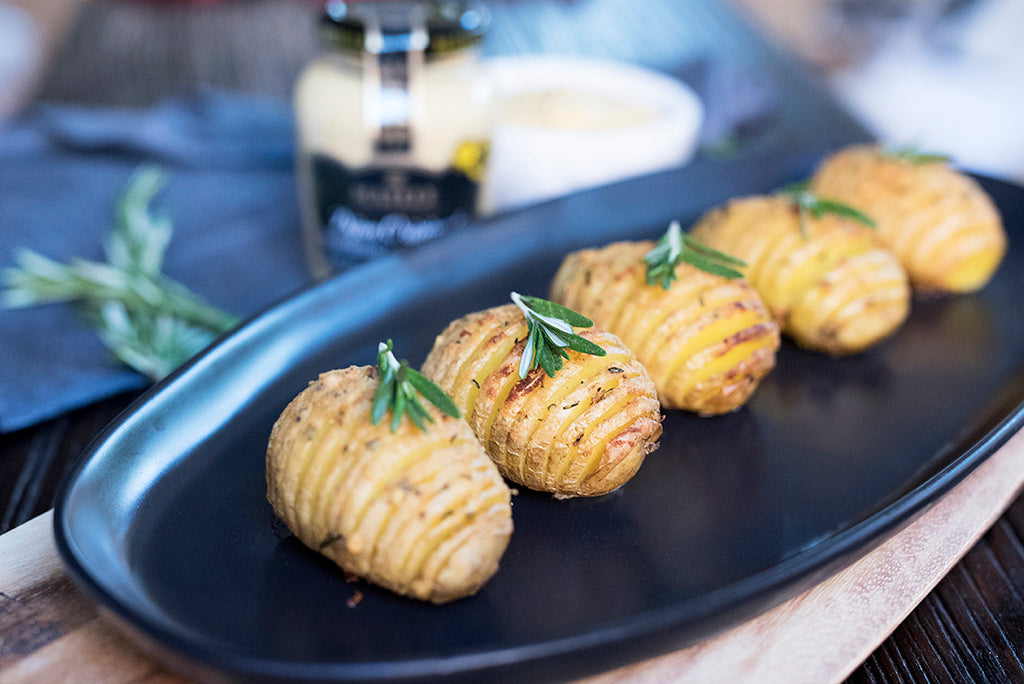 Recipe created by Pretty in Pistachio
Yield: 2 dozen bites
Ingredients
2 dozen mini potatoes
5 tablespoons butter, melted and cooled to room temperature
2 tablespoons Maille Dijon Originale
2 cloves garlic, minced
2 sprigs rosemary, leaves removed from stems and chopped
salt & pepper to taste
Directions
Preheat oven to 400 degrees F
Wash and dry your potatoes. Use a sharp knife to create slits into the potato about half way down. Be careful not to go all the way through as you will want the potato slices to remain connected. A little tip – if you rest the potato in a curved wooden or plastic spoon, the edges of the spoon will act as a safeguard so you don't cut too far down!
Once the potatoes are all sliced, set them on a baking sheet and set them aside.
In a small bowl, whisk together the melted butter, Maille Dijon Originale, chopped rosemary, garlic, and salt & pepper.
Using a small spoon or pastry brush, liberally brush each potato with the Dijon mixture. You'll want to use up about half of the mixture.
Place the potatoes in the oven and bake for 20 minutes.
Remove after the 20 minutes and spoon or brush on the remainder of the Dijon mixture. Place back in the oven for a final 20 minutes.
Once the potatoes are fully cooked through and soft in the center, remove them from the oven and let them cool slightly. Place them in a serving bowl and enjoy!
---