Heirloom Tomato and Watermelon Salad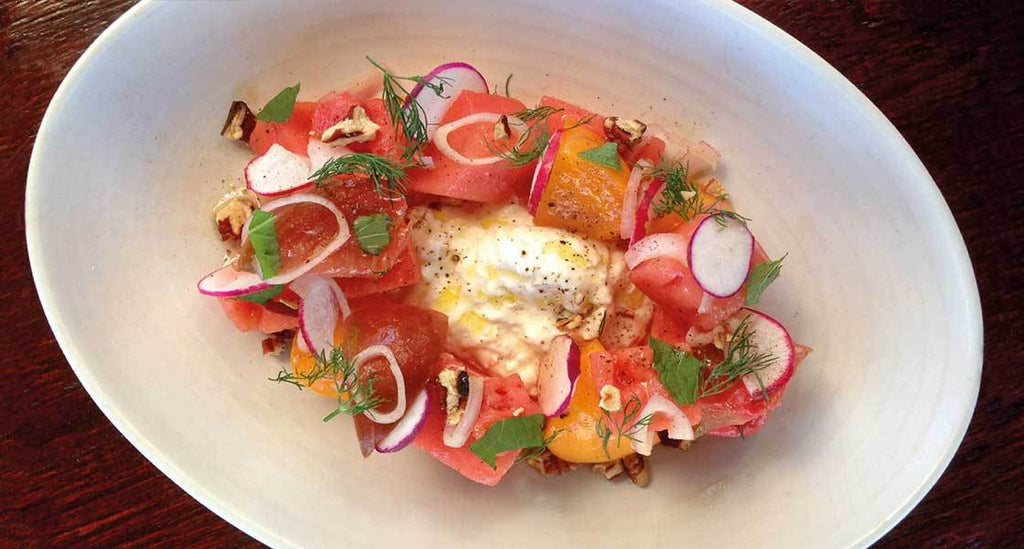 Ingredients
2 cups mixed heirloom tomatoes, cut into 1" irregular pieces
1 cup watermelon chunks, cut into 1" pieces
2 tbsp toasted pecans
1 oz burrata
2 tbsp garlic chives, minced
Basil and mint
2 oz Meyer lemon vinaigrette (recipe below)
Salt and pepper to taste
For the Meyer Lemon Vinaigrette:
1/4 cup Meyer lemon juice
1/4 cup champagne vinegar
1 tbsp honey
1 tbsp Dijon originale mustard
1/4 clove garlic, grated
Maldon salt
Zest of one Meyer lemon
1 cup arbequina olive oil
Preparations
To make the salad, combine all ingredients except burrata and vinaigrette. Season with salt and pepper, then toss with the vinaigrette (directions below) and plate in an oval bowl. Finish with a chunk of burrata seasoned with Maldon salt and extra virgin olive oil.
To make the dressing, combine all ingredients except olive oil in blender. Process until smooth then drizzle in olive oil.
---