Herby German potato salad with pickled onions, crème fraîche, and whole-grain mustard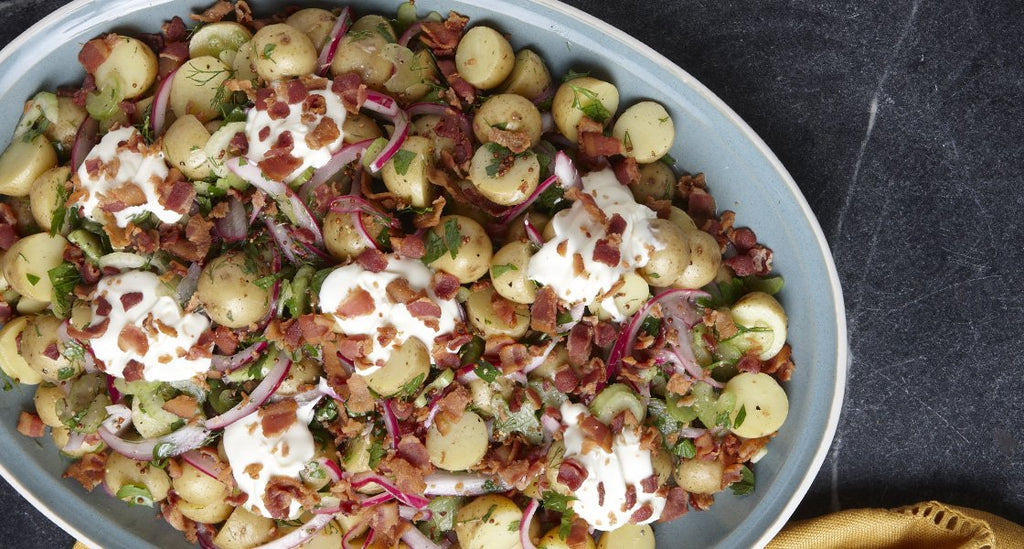 Mustard serves as an ideal emulsifier for a vinaigrette. A small amount beautifully binds the dressing for this potato salad and keeps it creamy and thickened
Ingredients
1 medium red onion, halved and thinly sliced lengthwise
1 cup red wine vinegar
3 lb. small Yukon Gold or new potatoes, about 1 inch in diameter, halved
Kosher salt
8 oz. slab bacon, cut crosswise into 1/2-inch lardons
2 Tbs. Maille Old Style mustard
1/4 cup olive oil
2 cups thinly sliced celery (about 3 large ribs)
1/2 cup packed fresh flat-leaf parsley leaves, roughly chopped
1/3 cup packed fresh dill leaves, roughly chopped
Freshly ground black pepper
8 oz. crème fraîche
Preparation
Combine the onion and vinegar in a measuring cup or other tall vessel. Place a glass or small plate on top of the onion to submerge. Let sit for at least 30 minutes.
Meanwhile, fill a large pot with 2 inches of water and fit with a steamer basket. Add the potatoes and sprinkle with 2 Tbs. salt. Bring the water to a boil and cover the pot. Reduce the heat to maintain a vigorous simmer and steam until the potatoes are tender when pierced with the tip of a knife, 10 to 15 minutes. Transfer to a large bowl.
In a medium skillet over medium heat, cook the bacon, stirring occasionally, until crisp and the fat has rendered, about 10 minutes. Remove with a slotted spoon to a paper-towel-lined plate and drain the bacon fat from the skillet. Drain the onion from the vinegar, reserving the vinegar. Add the vinegar to the skillet and cook until slightly reduced, about 2 minutes. Add the Maille Old Style mustard and olive oil and continue to cook, swirling the skillet or whisking to emulsify.
Pour the dressing over the potatoes and fold to combine. Add the celery, parsley, dill, and reserved onion, and season generously with salt and pepper. Scatter the bacon and dollop the crème fraîche over the top. Serve immediately or at room temperature.
—Fine Cooking for Maille
---