Honey Dijon Glazed Brussels Sprouts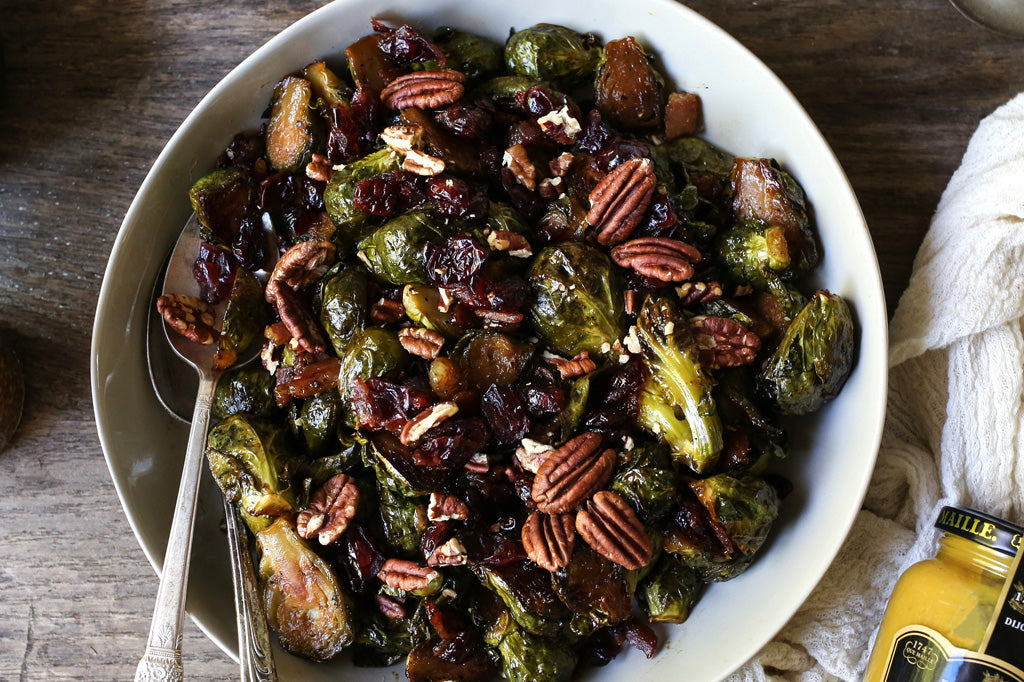 Serves: 4-6
prep time: 10 minutes
cook time: 20 minutes
Ingredients
1 pound fresh Brussels sprouts, ends and outer leaves removed and cut in half
1 cup chopped bacon, uncooked
1 ½ tablespoons Maille Honey Dijon
1 ½ tablespoons maple syrup
4 tablespoons olive oil
½ teaspoon salt
1/3 cup dried cranberries
1/3 cup toasted pecan pieces (you can also use almonds, walnuts or hazelnuts)
Method
Preheat oven to 450 degrees.
Place the Brussels sprouts and bacon onto a large baking sheet. Drizzle on the Maille Honey Dijon, maple syrup, olive oil and sprinkle on the salt. Use your hands (or a spoon) to gently toss the Brussels sprouts until they're well coated, then spread them out in a single layer. Bake for 17-20 minutes, stirring occasionally, or until the bacon is cooked and the Brussels sprouts are golden and crispy.
Transfer to a serving dish and top with the dried cranberries and toasted pecans. Serve immediately.
Leftovers can be stored in an airtight container in the refrigerator and reheated in the oven for 5-7 minutes.
---