Honey Dijon Grilled Chicken and Zucchini Skewers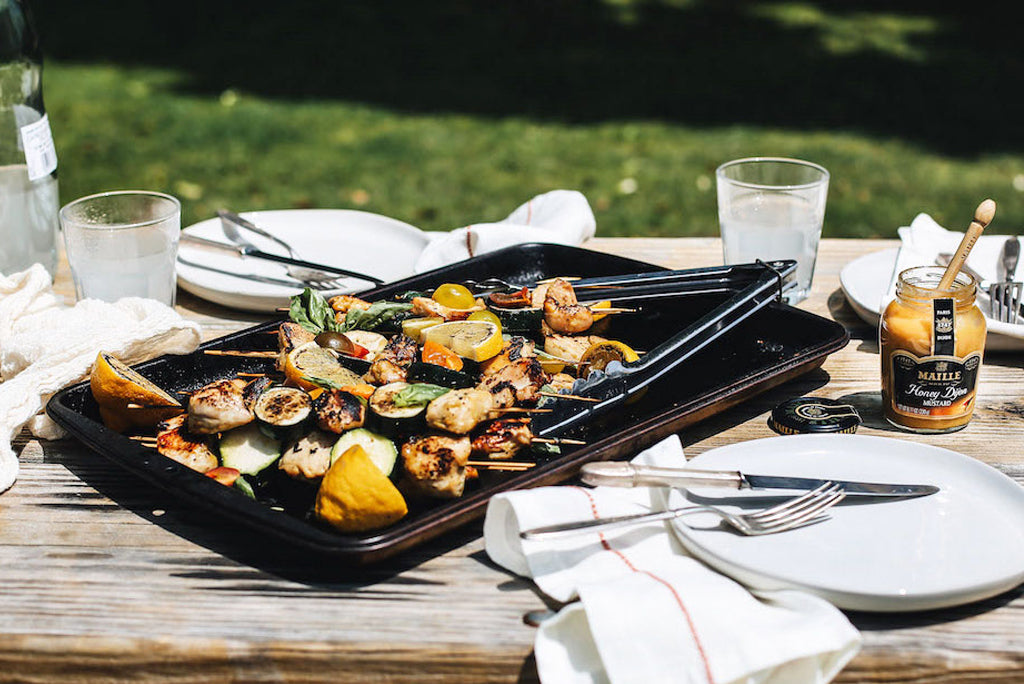 Recipe by: Runway Chef
Yields: 12 - 14 Skewers
Ingredients
For the chicken
For the zucchini

To garnish:
fresh herbs, grilled lemon slices, chopped cherry tomatoes, goat or feta cheese crumbles
Preparation
In a large glass bowl, or resealable plastic bag, combine the Maille Honey Dijon, olive oil, salt and pepper.
Add in the cubed chicken breast and toss to coat the meat with the mustard mixture, or seal the bag and shake to coat.
Place the bowl, covered with plastic wrap or a lid, or the sealed bag in the refrigerator for at least 6-8 hours, or overnight.
Drain the chicken, then assemble the skewers, alternating between zucchini slices and chicken pieces.
Brush the zucchini with olive oil, then sprinkle with salt and pepper.
Grill the skewers over medium-hot heat for 12-15 minutes (or until the meat is no longer pink and the zucchini is tender), turning them every few minutes.
Be sure to also generously baste the skewers with Maille Honey Dijon while they're cooking.
Serve with your choice of garnishes (optional) and extra Maille Honey Dijon for dipping.

Note:
If you are using wooden skewers, be sure to pre-soak them in warm water for at least 30 minutes before using them.
---