Honey Dijon Hummus Platter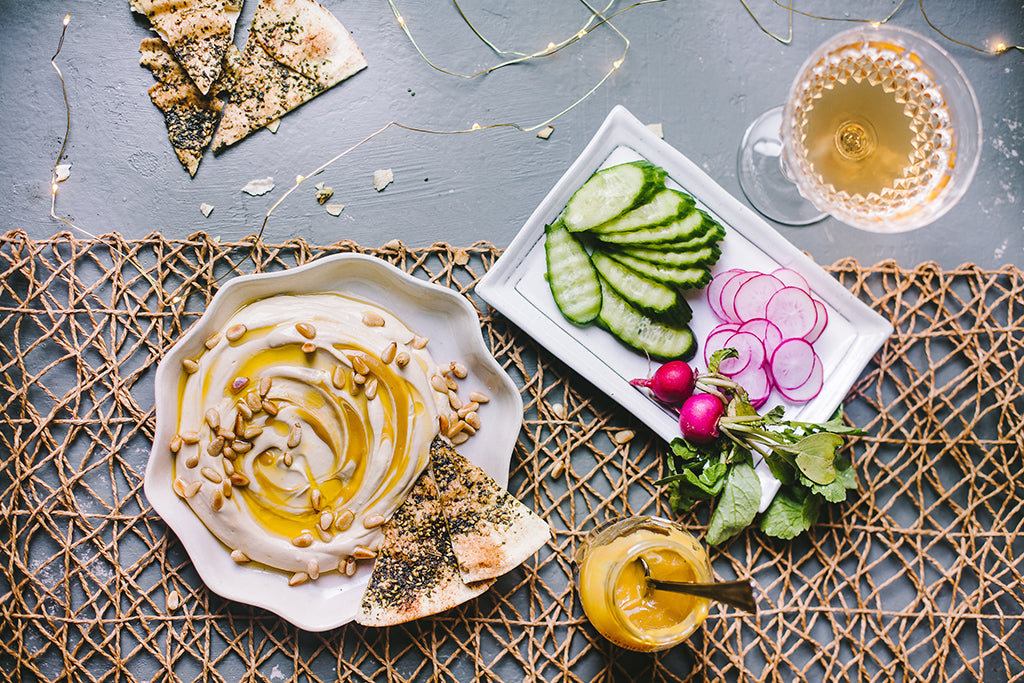 Recipe created by: playfulcooking.com
Serves: 5
Ingredients
For the honey dijon hummus:
1 can garbanzo beans (15 oz/ 425 g)
1 garlic clove
3 tablespoons tahini
3 tablespoons olive oil
2 tablespoons fresh lemon juice
1 teaspoon salt
1 teaspoon paprika 
4 ice cubes
2 tablespoons Maille Honey Dijon mustard
Toasted pine nuts (optional)
For the toasted zaatar pita chips:
2 big pita breads
2 tablespoons zaatar 
oil to brush on the breads
Preparation
Drain the beans from the can and give it a good wash. Then, soak them in warm water. Little by little, take the beans in your hand and rub them with a towel so the skin peels off of the beans. This process will take some time, but will make your hummus creamy.
Add the garlic and tahini in the blender and blend until it looks smooth. Keep scraping from the side as you blend.
Pour olive oil and blend it again to form a smooth consistency.
Drop the peeled garbanzo beans and lemon juice. Blend for 1 minute, scraping from the sides when needed. 
Then, drop the ice cubes, salt and lemon juice and blend for 4 minutes, again scraping from the sides when needed.
The texture should be smooth by now. Finally, add the Maille Honey Dijon mustard and blend again to mix everything. 
Pour the hummus in a serving bowl and swirl it with the back of the spoon to create a charming swirl effect. Pour some olive oil on top, sprinkle some paprika, a little bit more of the Maille Honey Dijon mustard and roasted pine nuts (if using).
For the toasted zaatar pita chips, preheat the oven to 350 F. Brush some oil on the pita bread and sprinkle the zaatar spice on top. Place it in a cookie sheet and bake it for 7 to 10 minutes on the middle rack of the oven. Once done, let it cool down a bit. Then, slice it and serve with the hummus. 
---