Honey Dijon Popovers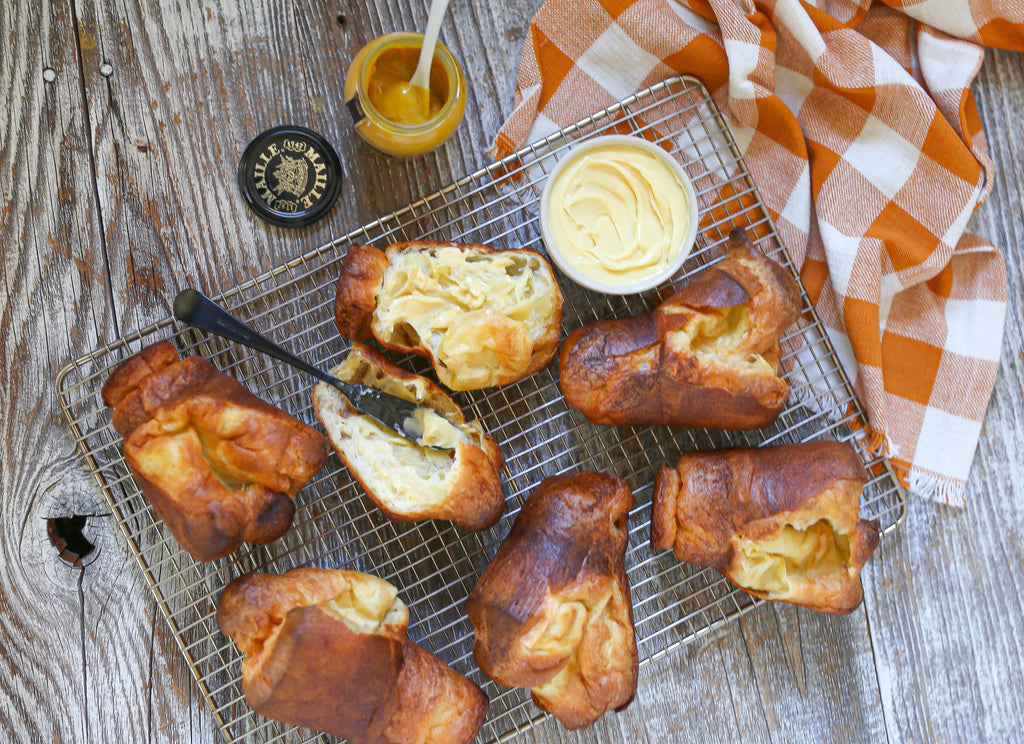 Prep Time: 5 Minutes
Cook time: 35 Minutes
Total Time: 40 Minutes
Serves: 6
Ingredients
4 eggs, room temperature
1 1/2 cups whole milk
1 Tbsp Maille Honey Dijon Mustard
1 tsp kosher salt
1 1/2 cups AP flour
4 Tbsp butter, melted and cooled slightly, divided
Preparation
Preheat the oven to 450 degrees F and brush 1 Tbsp melted butter on the bottom and sides of the popover cups (using a six-cup popover pan or large muffin pan).
Using a whisk or an immersion blender, blend the eggs, milk, mustard and salt until well mixed and frothy.
Add the flour and continue to mix, then add 3 Tbsp slightly cooled, melted butter and blend well. Be sure there aren't any lumps and the consistency of the batter is like smooth, heavy cream.
Divide the batter evenly between the prepared popover cups and bake for 20 mins.
Reduce the oven temperature to 350 degrees F and continue to bake for 15 additional mins. Immediately remove the popovers from the pan and pierce the sides with the tip of a paring knife to release the steam.
Serve warm with honey mustard butter if desired.
Recipe Notes
Special Equipment: 6-cup Popover Pan (a muffin pan can be substituted)
Honey Mustard Butter:
whip together 4 oz (1 stick) softened, salted butter with 1 Tbsp honey and 2 tsp Maille Honey Dijon Mustard.
---