Honey Dijon Teriyaki Salmon Kebabs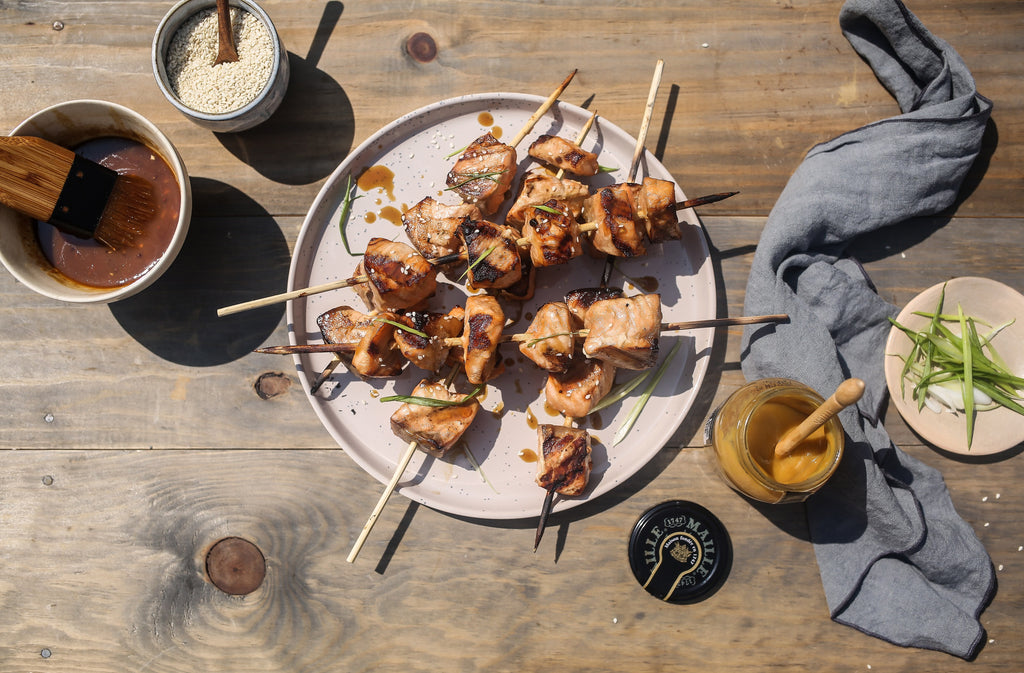 Prep Time: 5 minutes
Cook time: 6-7 minutes
Serves: 4-5 kebabs
By: Alyssa Ponticello
Ingredients
1 Lb Salmon Filet, even thickness, cleaned, skin off, cut into cubes
1/4 cup Brown Sugar
1/4 cup Maille Honey Dijon Mustard
1/4 cup Soy Sauce
4 tsp Rice Vinegar
2 tsp Sesame Oil
3 Tbsp Fresh Ginger, minced
Optional: Sesame Seeds, Lime Wedges, Cilantro for garnish
Preparation
In a bowl, combine the Maille Honey Dijon Mustard along with the brown sugar, soy sauce, rice vinegar, sesame oil and ginger. Whisk until well combined.
For marinating- while it's not necessary to marinate the salmon, you definitely can. Simply spread it out in a single layer in a glass baking dish. Pour the marinade over, cover the dish and refrigerate for up to an hour. Proceed to the next step..
Thread fish onto skewers. If using wooden skewers, be sure to let them soak for at least 30 minutes prior to using.
Baste with the marinade. Grill at medium high, yet indirect (to keep the sugar in the sauce from burning), heat for 3 minutes, then flip, baste with more marinade as needed, and cook for another 3-4 more minutes.
Transfer to a serving dish and garnish with your desired toppings. Enjoy!
Notes
Remember to generously spread Maille Honey Dijon Mustard on your brioche buns for that special flavor!
---