Honey Mustard Glazed Bacon Wrapped Brussel Sprouts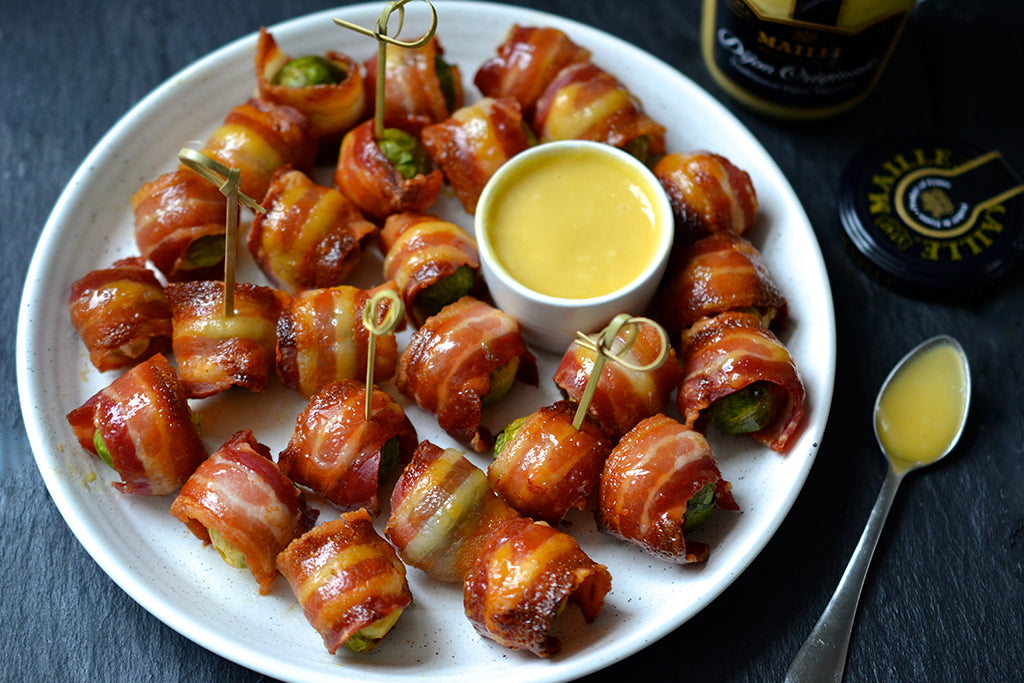 Recipe created by: www.EveryLastbite.com
Servings: 8
Ingredients
28 small brussel sprouts
14 slices of bacon
Honey Dijon Glaze: 
Creamy Mustard Dip: 
2 tbsp honey (or maple syrup)
2 tbsp mayonnaise
Pinch of cayenne pepper
Preparation
Preheat the oven to 400 degrees Fahrenheit and place a wire rack onto a baking tray.
To prepare the glaze, whisk the Maille Dijon Originale Mustard and honey together in a bowl until smooth.
Prep the brussel sprouts by washing them and cutting off any of the tough outer leaves.
Wrap a strip of bacon around each brussel sprout ensuring that it slightly overlaps (the bacon will shrink when baked). One strip of bacon should be enough for 2 brussel sprouts. Place the bacon wrapped brussel sprouts on the wire rack.
Brush each of the brussel sprouts with the dijon glaze and then place the tray in the oven to bake. They should take approximately 30 minutes to bake and are done when the bacon is crisp and the brussel sprouts are tender. Half way through baking remove from the oven and brush with more glaze before continuing to bake.
To make the dipping sauce, in a bowl whisk together the dijon mustard, mayonnaise, honey and cayenne.
To serve, place the brussel sprouts on a plate, brush with more sauce and serve with toothpicks and the creamy mustard sauce for dipping.
---