Honey Mustard Grilled Salmon in Foil Packets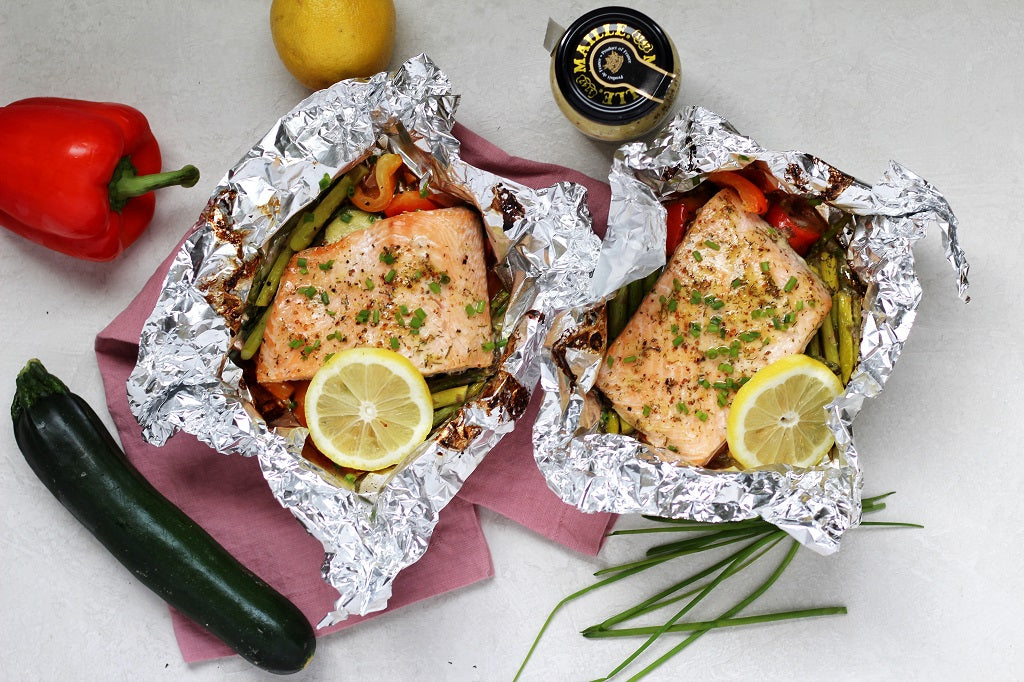 Recipe by: Parsnips and Pastries
Servings: 8
Ingredients
2 tablespoons olive oil, divided
2 tablespoons Maille Rich Country Dijon Mustard
2 tablespoons honey
2 tablespoons lemon juice
1 teaspoon grated lemon zest
1 garlic clove, minced
1 teaspoon dried dill
4 (6-ounce) salmon filets
1 large zucchini, sliced
1 red bell pepper, diced
1 small bunch asparagus, cut into thirds
2 tablespoons chopped fresh chives
Sea salt and pepper, to taste
Preparation
Heat the grill to high.
In a small bowl, whisk together 1 tablespoon olive oil with the Maille Rich Country Dijon Mustard, honey, lemon juice, lemon zest, garlic, and dried dill.
In a medium bowl, toss the zucchini, bell pepper, and asparagus with the last tablespoon of olive oil and sea salt and pepper to taste.
Cut four pieces of large foil.
Divide the vegetables among the foil pieces. Place the salmon filet on top of the vegetables. Season the salmon with sea salt and pepper.
Evenly divide the honey mustard sauce on top of the salmon. Close the foil packets almost all the way.
Grill the foil packets with the lid covered until the salmon is cooked through and flaky, about 15-18 minutes.
Serve the foil packets topped with fresh chives.
---