Honey Mustard Potato Tart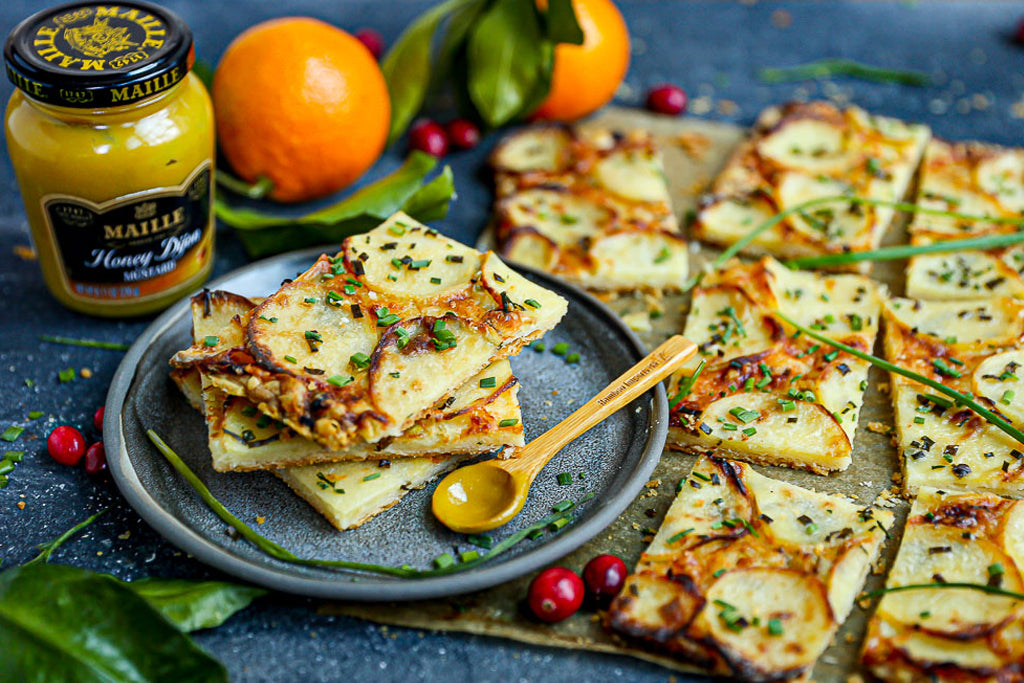 Recipe by: Cathy Roma | What Should I Make For…
Serves: 8
Prep time: 30 minutes
Cook time: 40 minutes
Resting time: 1 hour
Ingredients
Pastry
2 cups AP flour
1/2 tsp kosher salt
1 Tbsp sugar
12 Tbsp cold unsalted butter, diced (1 1/2 sticks)
1/2 cup ice water
Honey Mustard Potato Tart
3 Tbsp Maille Honey Dijon Mustard
2 Tbsp fresh chives, minced (divided)
2/3 cup onion, finely chopped
1 1/2 cups sharp cheddar cheese (6 oz)
1 lb yellow potatoes (about 3 medium potatos)
2 Tbsp heavy cream
2 Tbsp unsalted butter, diced
1 tsp kosher salt
Method
Pastry
Place the flour, salt, and sugar in the bowl of a food processor fitted with the steel blade. Pulse for a few seconds to combine.
Add the butter and pulse 10 to 12 times, until the butter is in small bits the size of peas.
With the motor running, pour the ice water down the feed tube and pulse just until the dough starts to come together. Dump onto a floured board and knead quickly into a ball. Wrap in plastic and refrigerate for at least 1 hour.
Make the tart
Preheat the oven to 400 degrees and line a sheet pan with parchment paper.
Roll the dough between two sheets of lightly floured wax paper, slightly larger than 10 x 14 inches. Using a ruler and a small knife, trim the edges. Place the dough on the prepared sheet pan and refrigerate while you slice the potatoes.
Peel the potatoes and slice very thinly, about 1/8 inch. A mandolin is an ideal tool to slice the potatoes in thin, uniform slices.
Spread the rolled pastry with the mustard, right to the edges. Sprinkle with the onion and chives, then top with the cheese, again, right to the edges.
Place the potato slices over the cheese in diagonal lines, just barely overlapping and brush the potato slices with cream.
Dot with the butter and sprinkle with salt and remaining chives.
Bake for 40 mins or until the tart is golden and browned. Cover the edges with foil if the tart is getting too brown during baking.
Let cool slightly and cut into squares to serve. Serve warm or at room temperature.
Recipe Notes
The dough comes together in minutes in your food processor and can be made well in advance and frozen until you're ready to use it.
A mandolin is the ideal tool to get very thin and uniform potato slices.
Arrange the potato slices in diagonal, slightly overlapping rows for a pretty presentation.
If the edges of the tart get too brown as it bakes, cover them with foil.
The tart can be sliced into squares, strips, or wedges, but no matter how you slice it (yes I went there), it's just plain delicious.
---