Horseradish Mustard and Beer Braised Brisket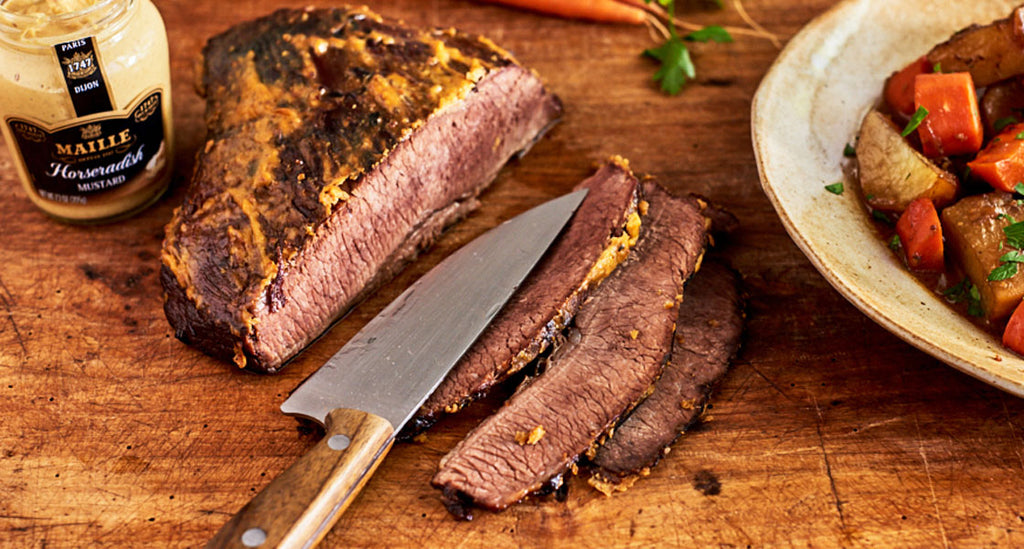 Recipe by: Jen May
Servings: 19
Ingredients
1 tbsp. olive oil
4 ¾ -lb. boneless beef brisket
2 large onions, coarsely chopped
2 tbsp. Knorr® Selects Beef Bouillon
2 cups water
1 bottle (12 oz.) dark-style beer
1 jar Malle® Horseradish Mustard, divided
1 tsp. caraway seeds, (optional)
2 lbs. Medium baking potatoes, peeled and quartered
1 lb. carrots, coarsely chopped
Preparation
Preheat oven to 325°. Heat oil in large roasting pan set over two burners over medium-high heat and cook brisket and onions, turning brisket once and stirring onions occasionally, until brisket and onions are browned, about 6 minutes. Remove brisket and set aside.
Whisk Bouillon, water, beer, ½ cup Malle® Horseradish Mustard and caraway seeds in medium bowl. Add to pan and cook over medium-high heat scraping up browned bits from bottom of pan. Remove from heat.
Return brisket to pan; cover pan tightly with aluminum foil and bake 2 hours. Remove foil, turn brisket and add potatoes and carrots to pan. Cover and continue to bake 2 hours.
Remove foil and evenly spread remaining Malle® Horseradish Mustard over business. Return to oven and bake, uncovered, 30 minutes or until fork-tender.
Slice brisket against the grain and serve with vegetables and gravy. Garnish with chopped parsley, if desired.
---