Leek and Mushroom Frittata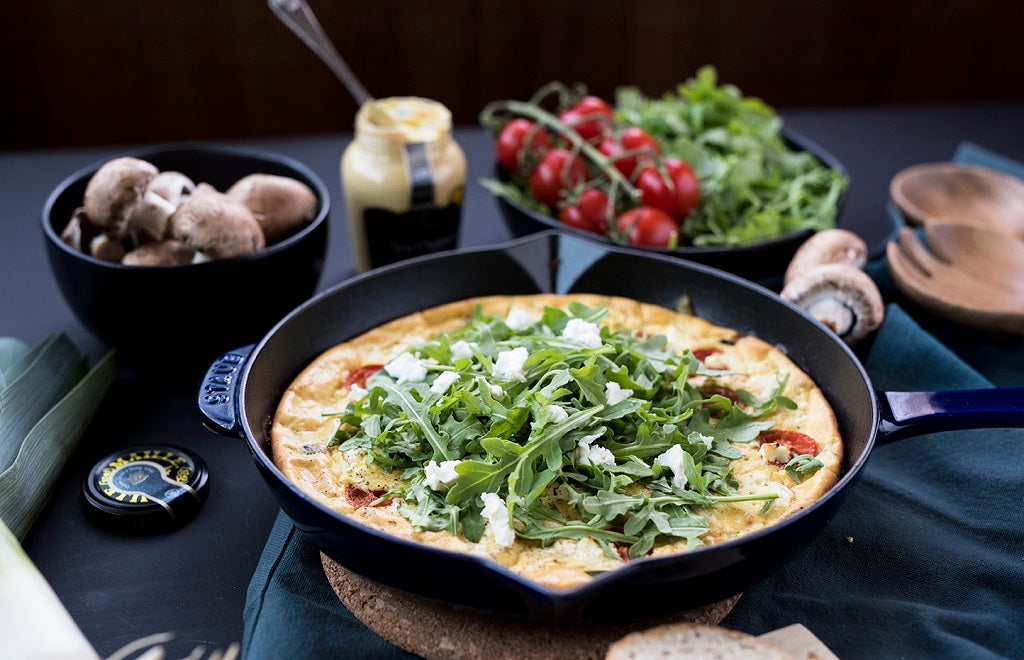 Recipe created by: Pretty in Pistachio
Serves: One 9" round frittata, 8 slices
Ingredients
1 large leek
1 cup baby bella mushrooms
6 large eggs
¼ cup heavy cream
Salt and pepper, to taste
¼ cup diced pancetta
1 tbsp minced garlic
1 cup crumbled goat cheese
4-5 small cherry tomatoes
Handful fresh arugula 
Preparation 
Wash and dry all produce.
Heat the oven to 400 degrees F.
Thinly slice the leek, set aside. Slice mushrooms, set aside. Thinly slice the tomatoes into small rounds, set aside.
In a medium bowl, whisk together eggs, heavy cream, Maille Dijon Originale Mustard, and salt & pepper to taste. Set aside.
Place a 9", oven safe skillet over medium heat. Add the diced pancetta and cook stirring occasionally until nice and crispy. Approx 4-5 mins.
Remove the pancetta and set aside on a plate lined with a paper towel. If there is a lot of grease in the pan, drain so that you only have about 1 tbs remaining in the pan.
Add garlic and sautee for 1 minute until fragrant. Add in mushroom and leeks and saute until leeks begin to soften.
Add pancetta back in and flatten the mixture with a spatula. Turn the heat to low. Sprinkle ½ cup of the crumbled goat cheese on top.
Pour the whisked eggs evenly over the vegetable mixture. Tilt the pan slightly if needed to ensure the eggs cover the pan from edge to edge. Sprinkle ¼ cup of the remaining goat cheese on top. Sporadically lay the tomato slices flat on top of the egg mixture.
Cook on low until the edges of the eggs begin to set. Once they start to set, transfer to the oven and cook for 8-10 minutes or until the eggs are fully cooked through.
Remove from oven, top with fresh arugula and goat cheese.
 Enjoy!
---