Maille Cheese and Charcuterie Board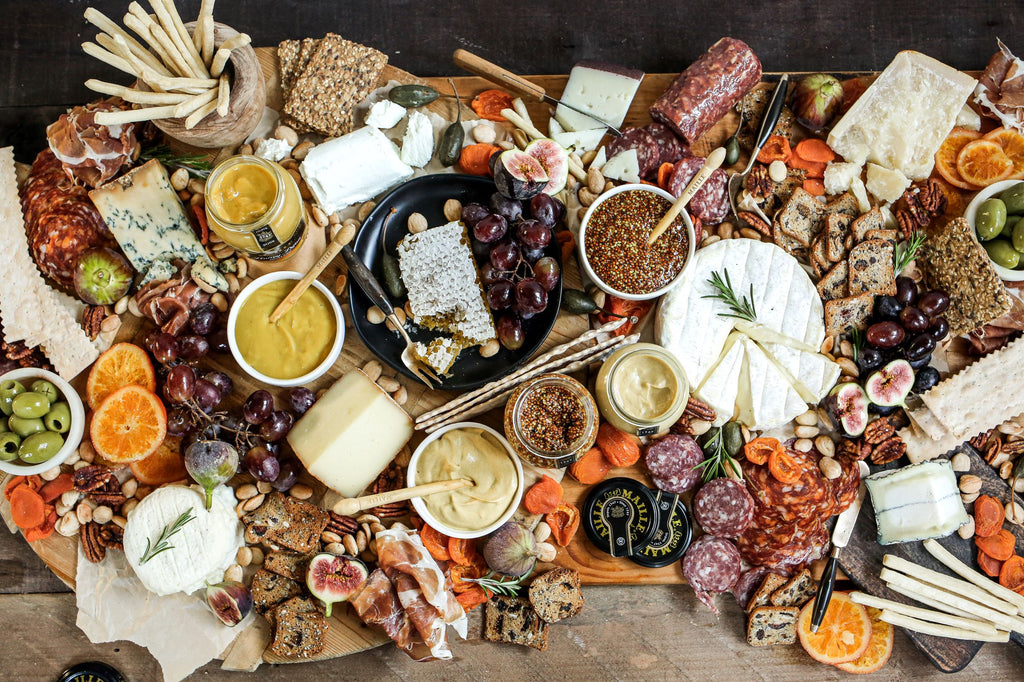 Recipe by: Alyssa Ponticello
Prep Time: 15 minutes
Servings: 4-6
Ingredients
1 Jar Maille Cornichons
1 Jar Maille Old Style Mustard
1 Jar Maille Dijon Originale
4-6 ounces Castelvetrano olives (or other olive of your choice)
5-6 ounces honeycomb
4 ounces goat cheese
8 ounce wheel of brie
4-6 ounces of a bleu cheese, such as Stilton, Gorgonzola or Roquefort
4-6 ounces each of 2-3 semi-hard cheeses of your choice (such as cheddar, fontina, Port Salut, gouda)
4-6 ounces each of 1-2 hard cheeses of your choice (such as parmesan, pecorino, manchego)
4 ounces prosciutto
4 ounces salami
8 ounces hard sausage
3 kinds of crackers (1 grainy/seedy like flatbreads, sourdough crackers and something with dried fruit/nuts or crostini)
Sourdough breadsticks
5-6 ounces dried orange slices
5-6 ounces dried apricots (dried pears or figs are also great options)
½ pound red grapes
6-8 fresh figs, some sliced in half and some left whole
2 ounces caper berries
6 ounces marcona almonds
6 ounces candied pecans
Fresh herbs (such as rosemary or thyme), for garnish
Preparation
Select a large serving board to assemble the charcuterie on. Place the Maille mustard jars evenly spaced across the board. Alternatively, you can also transfer some of each mustard to small dishes and places those on the board instead. Add in a small dish of Maille cornichons along with 2 small dishes of olives, placing the cornichons in the center and the olives on either side of the board.
Place the honeycomb on a small plate or piece of parchment paper and add that somewhere in the middle of the board.
Begin building out the board arranging the meats and cheeses around the mustards, cornichons, olives and honeycomb. Slice, crumble or cut wedges of some of the cheeses and slice some of the hard sausage to add additional texture and variety to the board.
Next, arrange the crackers and breadsticks. You can even add some breadsticks to a small jar for added depth on the board.
Finish filling in any gaps with dried and fresh fruit, scattering, clustering and tucking it in across the board. Lastly, add the caper berries and sprinkle any remaining open spaces with the nuts. Garnish with fresh herbs.
---