Maille Chicago-Style Hot Dogs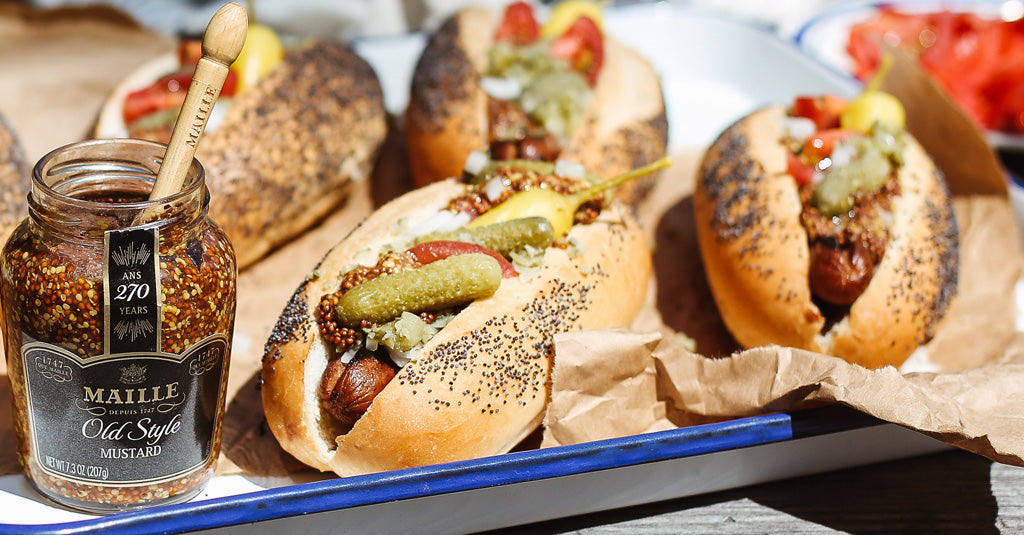 Recipe by: Runway Chef
Prep Time: 12 minutes
Cook Time: 9-12 minutes
Servings: 8 hot dogs
Preparation
In a food processor, pulse 1 cup of Maille cornichons and onions 5-7 times, or just until it's chopped enough to resemble relish. Transfer to an airtight container and keep chilled until ready to serve. This can be made 24 hours in advance.
Slice the rolls in half, cutting them lengthwise and being sure to cut only ¾ of the way through. Warm the rolls for 4-6 minutes in a 350 degree oven (if desired).
Use your preferred method (grilling, pan frying, boiling) to cook hot dogs for 5-6 minutes.
Once the hot dogs are cooked, transfer them to the rolls. Top with Maille Old Style Mustard and the cornichon relish. Garnish with onion, tomato slices, peppers and Maille cornichons.
Notes: If you can't find poppy seed rolls, an alternative is to simply sprinkle a few poppy seeds on top of the finished hot dogs in addition to the other garnishes.
---