Maille French Croque Monsieur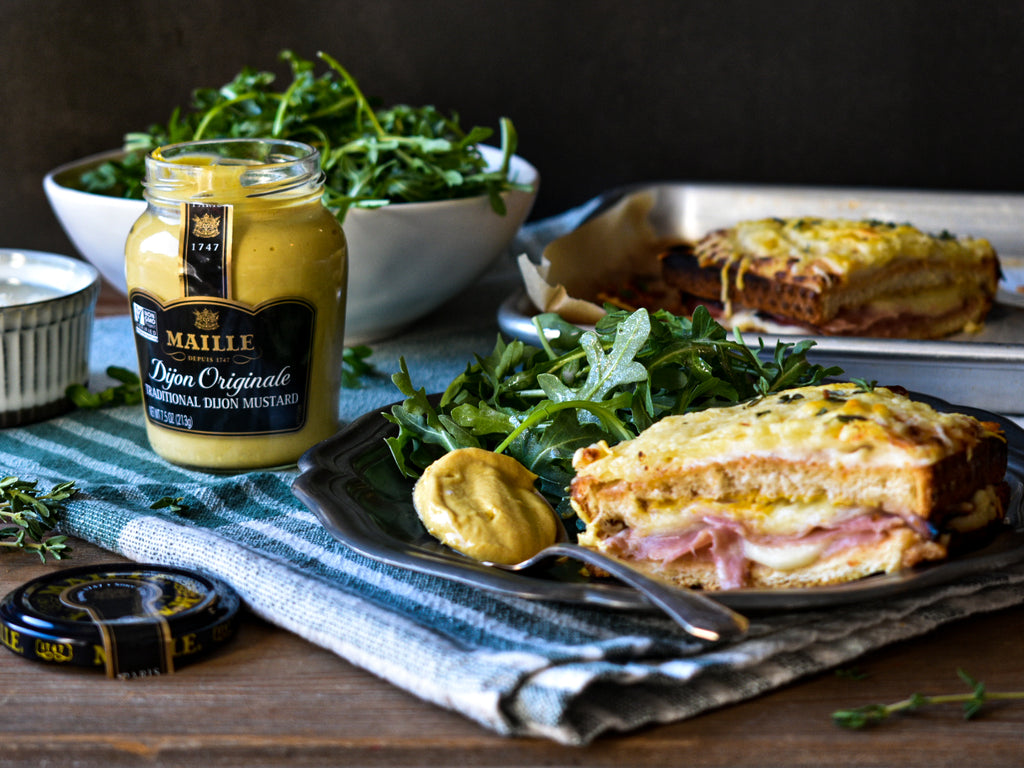 Prep Time: 10 minutes
Cook Time: 15 min
Servings: 2
By:
 Uncomplicated Chef
Ingredients
For the Béchamel:
For the Sandwich:
4 slices of bread (preferably country style)
4-6 slices of ham
1 tsp Maille Dijon Originale
1 cup of gruyere or swiss cheese
Fresh thyme
Preparation
For the Béchamel sauce:
In a saucepan melt the butter on medium heat
Add flour and whisk until a thick creamy paste forms
Slowly add the milk and keep whisking continuously to avoid lumps.
Cook the sauce until the texture is thick and creamy.
Remove from stove top and add Maille Dijon Originale, nutmeg, and salt.
For the Maille Croque Monsieur:
Preheat the oven on 400F degree
Place the slices of bread on a baking sheet and toast them in the oven for about 10 minutes. This step will avoid the bread from getting soggy from the béchamel sauce.
Remove slices of bread from the oven, and start assembling the sandwich
Spread bechamel sauce on the bottom slices.
Continue with ham and half of the cheese.
Spread a thin layer of Maille Dijon Originaleon the top slices.
Place the top slices of bread mustard side down on top of the cheese.
Top the sandwich with remaining bechamel and cheese.
Bake in a preheated oven for about 15 minutes or until the cheese is bubbling.
---