Maille Mustard-Crusted Cauliflower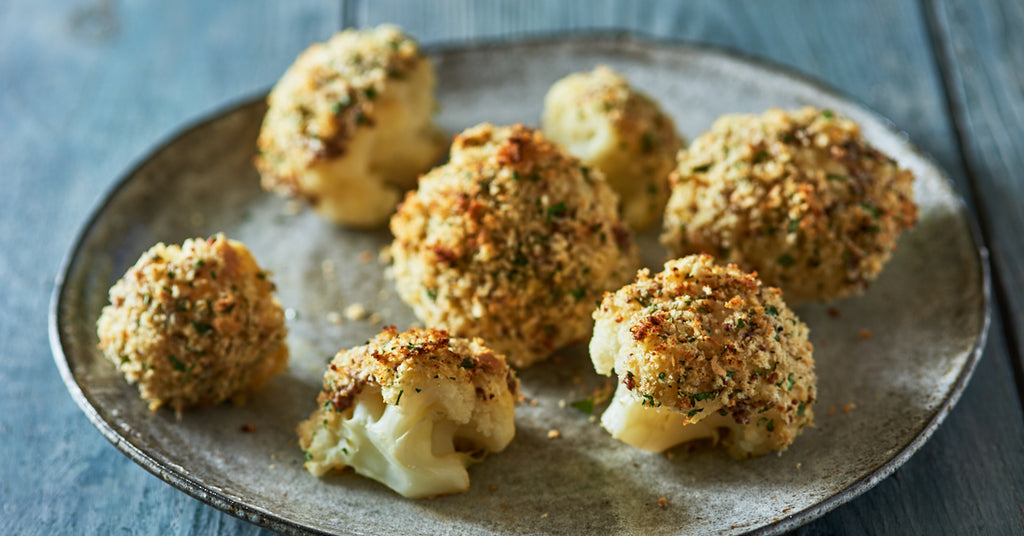 Ingredients
1 large head cauliflower, (about 2-1/2 lbs.)
3 Tbsp. Maille® Old Style Mustard
4 tsp. olive oil, divided
3/4 cup plain panko bread crumbs
1/4 cup grated Parmesan cheese
1/4 cup finely chopped flat-leaf parsley
1 tsp. finely grated lemon peel
1/4 tsp. freshly ground black pepper
Preparation
Cut cauliflower into large florets, then trim bottoms to sit flat on baking sheet (about 2 to 3in diameter). Cook cauliflower in boiling salted water until just barely tender, about 7 minutes; drain well.
Preheat oven to 425°. Line baking sheet with aluminum foil and coat with nostick cooking spray; set aside.
Combine Maille® Old Style Mustard, Maille® Dijon Originale Traditional Dijon Mustard and 2 tsp. oil in small bowl; set aside.
Combine bread crumbs, Parmesan cheese, parsley, lemon peel and remaining 2 tsp. oil in medium bowl. Season, if desired, with salt and pepper.
Coat top of cauliflower with mustard mixture, then press into bread crumb mixture, patting to adhere.
Arrange bread crumb-side-up on prepared baking sheet. Bake until bread crumbs are browned and cauliflower is tender, about 20 minutes.
NOTE: Use smaller florets left over in preparation of this dish for Knorr Moroccan style chickpeas with barley skillet meal.
---