Maille Pumpkin Lasagna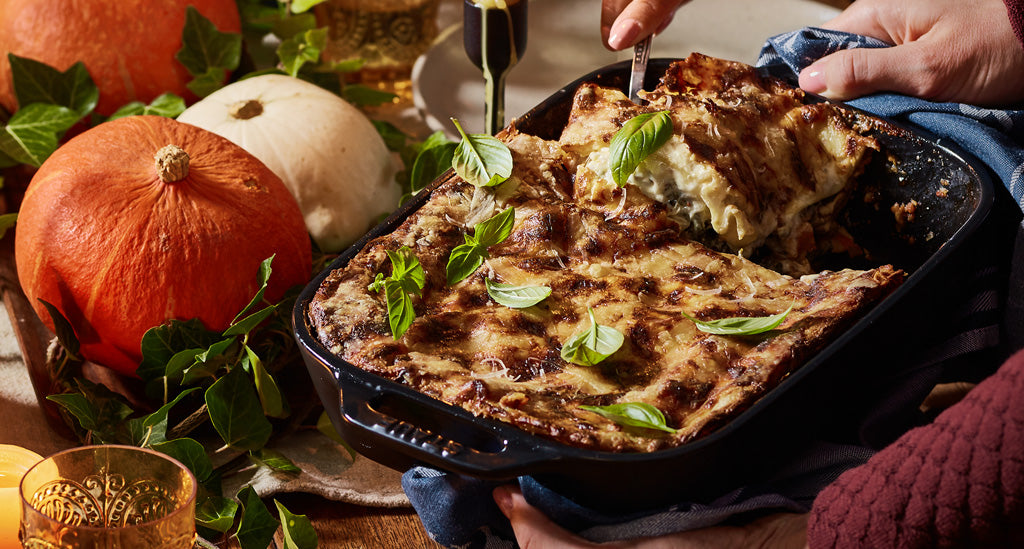 Recipe by: Harry Lalousis
Prep Time: 30 minutes
Cook Time: 40 minutes
Servings: 6
A simple vegetarian lasagne, to please the pallet, whilst having a lighter tastier dish.
Ingredients
For the Bechamel
For the layers
700 grams pumpkin or butternut squash finely sliced
12 fresh lasagna sheets
1 teaspoon ground nutmeg
200 grams grated Gruyère
1 bunch fresh basil leaves
Preparation
For the Bechamel
Melt the butter in a saucepan over medium-low heat, stir in the flour.
Whisk in a little of the milk at a time, stirring continuously until you have a smooth, slightly thick sauce.
For the layering
Butter a large gratin or baking dish, roughly 1.4 litres in capacity and evenly lay a layer of lasagne sheets on top of this.
Scatter 1/4th of the pumpkin and the Gruyere cheese over the top and smear with dollops of 1/4th of the bechamel sauce, top with 1/4th of the basil leaves and sprinkle 1/4th of the ground nutmeg.
Repeat the above until you have used all the ingredients, cover with foil and bake in a preheated oven at 18 degrees Celsius for 30 minutes
increase oven heat to 200 degrees Celsius, remove the foil and allow the top to colour for another 10 minutes.
---