Maille Salad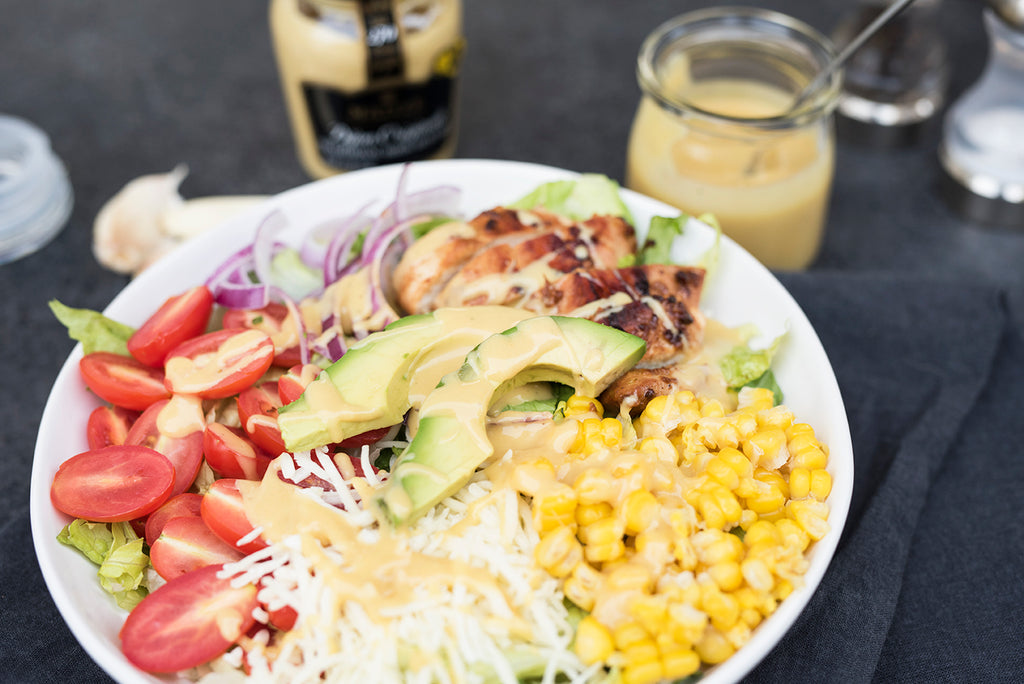 Rights: By Justine Dungo of Pretty in Pistachio
Ingredients
Dressing Ingredients (makes 1 1/2 cups)
1 clove garlic, minced
1 teaspoon white wine vinegar
2 tablespoons Maille Dijon Mustard
1 tablespoon mayo
3 tablespoons raw honey
1/2 small shallot, finely chopped
1/2 cup olive oil
salt & pepper to taste
Salad Ingredients (1 serving)
1 medium chicken breast
2 cups romain lettuce
1/2 cup grape  tomatoes, halved
several slices raw red onion
1/4 cup shredded mozzarella
1/2 small avocado, sliced
1/2 cup corn, cooked
Directions 
Make the dressing.
Place the garlic, vinegar, Maille Dijon Mustard, mayo, honey, shallot, olive oil, and salt/pepper in a small food processor. Process until you have a smooth and creamy consistency. Strain the dressing through a small sieve into a mason jar or bowl. This will help remove any large chunks of shallot that were not full processed. Store dressing in a sealed jar or container until ready to use.
Marinate the chicken.
In a small bowl and the chicken breast and two tablespoons of the honey mustard dressing. Heat a small skillet on medium high heat and add a small amount of cooking oil. Place the chicken on the skillet and cook 4-5 minutes on each side or until the chicken is full cooked through. Once cooked, remove from pan and set aside to rest.
Prepare the salad.
Rinse and dry lettuce. Place lettuce in a large bowl with grape tomatoes, raw red onion, shredded mozzarella, avocado, and corn. Drizzle with desired amount of dressing and enjoy!  
---