Maille Vegan Fresh Spring Rolls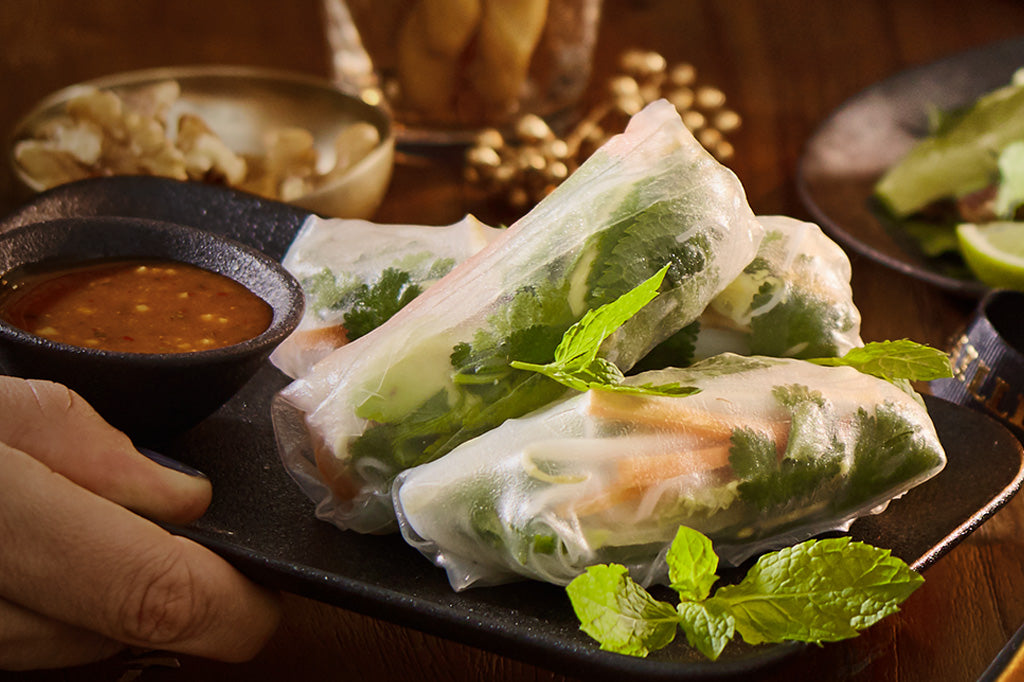 Recipe created by Harry Lalousis
Serves: 4
prep time: 20 minutes
cook time: 5 minutes
Having a party where your guests have different eating habits, or simply want to create a light healthier finger food snack? These vegan fresh spring rolls will be loved by everyone then and will do you proud.
Ingredients
14 spring roll wrappers
20 grams mint leaves
20 grams coriander leaves
200 grams firm tofu
100 grams dried rice vermicelli noodles
1 avocado thinly sliced
1 tablespoon Maille Dijon Originale
For the sauce
Method>
Cut the tofu into 1cm strips and fry in a hot pan until slightly coloured, smear with the mustard and set aside.
Fill a large bowl with Lukewarm water, dip 1 rice paper very carefully and gradually for about 5 seconds, until little soften, lay each rice paper on a clean wet cloth.
Separate all remaining ingredients evenly between the 14 wet rice papers
Fold uncovered sides of the rice papers inward engulfing the ingredients , then tightly roll the rice paper bottom upwards and hold for a few seconds until they stick, if the end doesn't stick enough apply a few drops of water with your fingers
For the sauce
Add all ingredients to a saucepan and bring to a simmer, remove from the heat and allow to cool.
---