Mexican Street Corn Hot Dogs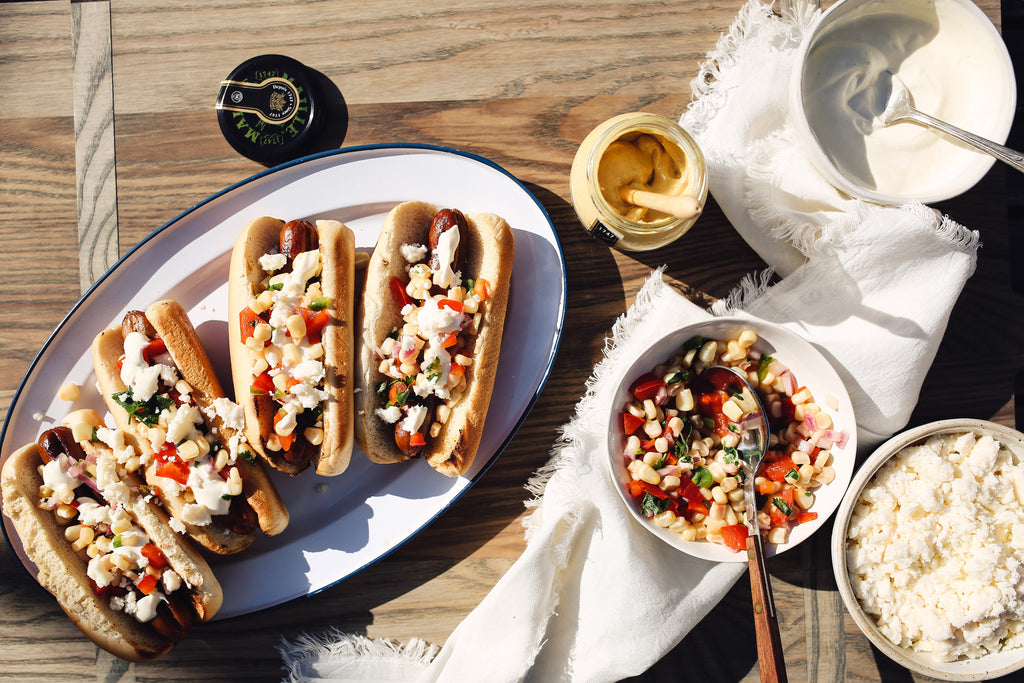 Recipe created by: RunwayChef
Yields: 8 hot dogs
prep time: 15 minutes
cook time: 15 minutes
Ingredients
1 cup corn
1/2 red bell pepper, diced
1/2 a large jalapeno, diced
1/4 cup finely diced red onion
1/4 cup chopped cilantro
3/4 teaspoon salt
Juice of 1/2 lime
1/2 cup sour cream
2 tablespoons mayonnaise
1 teaspoon Maille Dijon Originale
Juice of 1/2 lime
¼ cup of Cotija cheese crumbles
8 hot dogs
8 hot dog buns
Method
In a skillet, set over medium heat, saute the corn for 3-5 minutes, or just until some of the kernels start to brown. Remove from heat and add to a bowl, along with the pepper, jalapeno, onion, cilantro, salt and juice from ½ a lime. Stir to combine and set aside.
In a separate bowl, mix together the sour cream, mayonnaise, Maille Dijon Originale and remaining lime juice. This crema can be made up to 24 hours in advance and stored in an airtight container in the refrigerator until you're ready to serve.
Preheat your grill to medium-high heat. Grill hot dogs for 7-9 minutes, or until cooked through and grill marks have formed. Optional- toast hot dog buns for 2-3 minutes, or just until golden brown.
Place the hot dogs in the buns, top each with a spoonful of the corn mixture, drizzle with crema and finish with a sprinkle of cotija cheese crumbles. Serve immediately.
---