Middle Eastern Potato and Caramelized Onion Bourekas (Turnovers)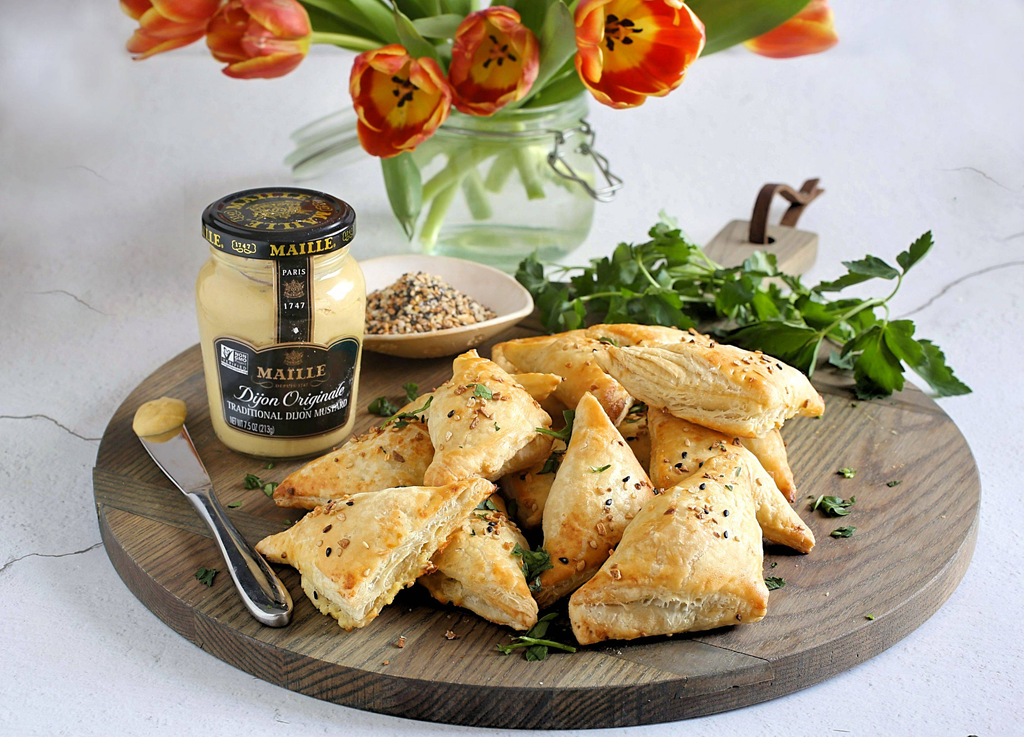 Recipe by: HungryCoupleNYC
Prep Time:20 min
Cook Time: 1 hr
Servings: 24
Ingredients
1 Tablespoon olive oil
1 Tablespoon butter
1 Large onion, peeled and diced
2 Baking potatoes, peeled and quartered
1 Egg
Salt and ground black pepper to taste
2 Sheets frozen puff pastry, thawed
1/4 cup Maille Dijon Originale
1 Egg plus 1 tablespoon water for egg wash
1 Tablespoon everything bagel seasoning or sesame seeds
Preparation
Add the olive oil, butter and diced onion to a large skillet or, ideally, a cast iron pan. Cook on medium low heat, stirring often, for 30 to 40 minutes, until the onions caramelize and deepen in color.
While the onions are caramelizing, cook the potatoes in boiling salted water until fork tender. Drain and mash well with a potato masher. Stir in the cooked onions, check for seasoning and add salt and pepper as needed. Allow to cool.
Once cooled, stir in the egg.
Preheat oven to 400 degrees F.
Roll out the sheets of puff pastry sheet to 12" x 12" and cut out 12 squares of 3" each. If you'd like to make them larger, cut 9 squares of 4" each.
Brush each square with Maille Dijon Originale, place about a teaspoon of the potato mixture in the center of each square, fold over on a diagonal and crimp the edges with a fork.
Bake for 15 to 20 minutes or until the pastry is a light golden brown. Serve hot with additional mustard.
---