Mini Brie and Jam Grilled Cheeses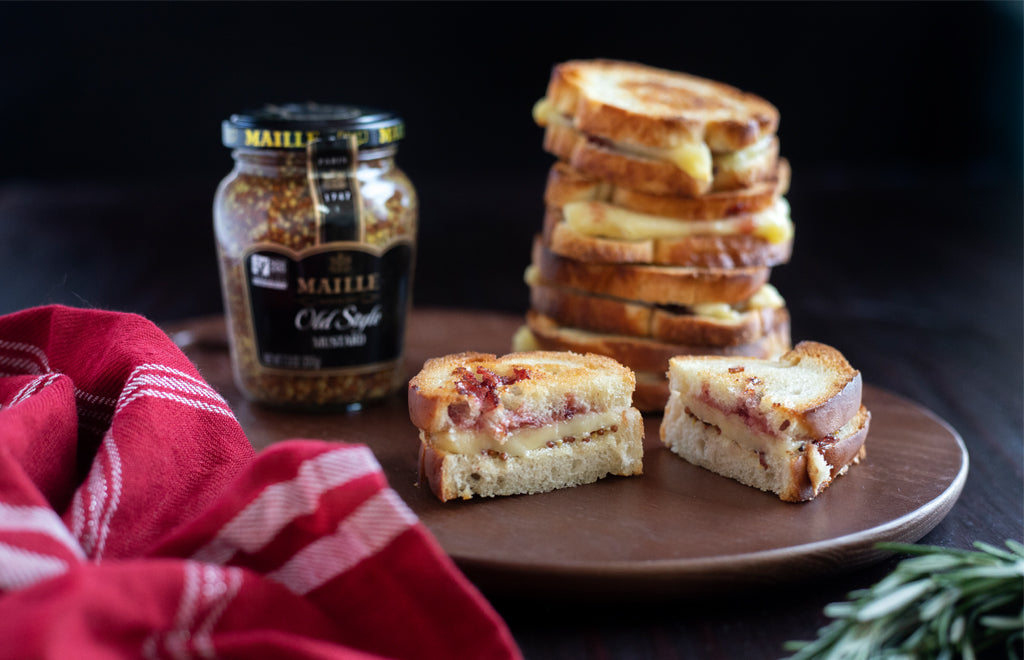 Recipe by: MoodyMixologist
Prep Time: 1 minute
Cook Time: 9 minutes
Servings: 8
Ingredients
1 ea. Baguette
3 Tbsp Butter
3 Tbsp Maille Old Style Mustard
4 Tbsp Lingonberry Jam ( or any other berry)
8 oz Brie Cheese
Preparation
Preheat to 450.
Cut 16 thin slices (about 1⁄2 inch thick) from a baguette.
Butter one side of 8 of the bread slices and place them buttered side down on a baking sheet.
Spread about 1 1⁄2 tsps of jam on each slice, then top with two thin slices of Brie (about 1oz of cheese per sandwich).
Next, spread about 1 tsp of Maille Old Style on each of the remaining 8 bread slices and place them mustard-side down on the cheese to form sandwiches.
Butter the tops of the 8 sandwiches.
Bake for 4 minutes, then carefully flip the sandwiches and bake for an additional 4-5 minutes, or until the bread is golden brown and the cheese is melted. /li>
Transfer the grilled cheeses to a platter and serve immediately.
---