Mini Cheesy Twice-Baked Potatoes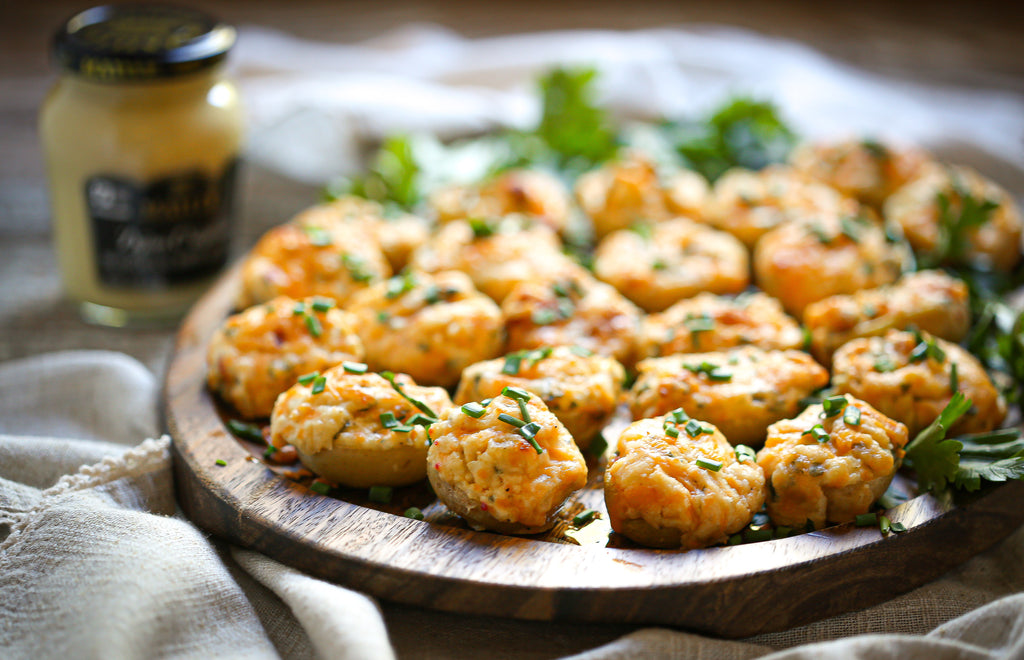 Recipe by: Whatshouldimakefor
Prep Time: 15 minutes
Cook Time: 30 minutes
Servings: 6
Ingredients
5 Medium-sized Russet Potatoes (1# 8 oz)
1 Tbsp Maille Dijon Originale
1 tsp Whole Coriander, ground in mortar and pestle
1/2 tsp Dried Oregano
1/4 tsp Black Pepper
3/4 tsp Kosher salt
Canola oil for frying
Mozzarella cheese, cut into quarter inch cubes
1/2 cup A.P. Flour
1/2 cup A.P. Flour mixed with 1/2 cup Water
1 1/2 cups Bread Crumbs
Preparation
Bring water to a boil in a large pot. Add whole, unpeeled potatoes and cook until potatoes are soft inside when you insert a knife, about 20 minutes.
Drain and let cool. Peel potatoes. The peel should come off very easily with a paring knife. Grate with a box grater and place in a large bowl.
In a bowl mash potato, mustard, and seasonings with your hands. Mix well, smashing until soft and combined. Do this while the potato mix is slightly warm as it will be easiest to 'mash'.
Using a small ice cream scoop or cookie dough scoop and place one scoop of mashed potato mixture into your hand (use oil from your hand to keep the ball smooth.) Once rolled into a ball, create an indent with your finger and pop a cube of cheese inside. Seal and re-roll to a ball. Place on a tray and continue until you've made about 18 balls.
Create a dipping station and place flour in one bowl, flour and water combined in another, and breadcrumbs in a third. Dip the balls into the flour, and then into the flour and water slurry, then into the breadcrumbs. Continue until all balls are coated.
Heat 1/2 an inch of canola oil in a cast iron skillet. Heat until a bread crumb sizzles when added. Add the cheese balls (do not crowd the pan) rotating them constantly so a flat side doesn't develop, and fry on all sides until golden brown (between 5-7 minutes).
Place on a paper towel to absorb extra oil.
Top with parsley and serve with an optional dipping sauce (we like to mix this same Maille mustard with mayo, hot sauce, paprika, apple cider vinegar, maple syrup, salt and pepper).
---