Mini Foccacia pots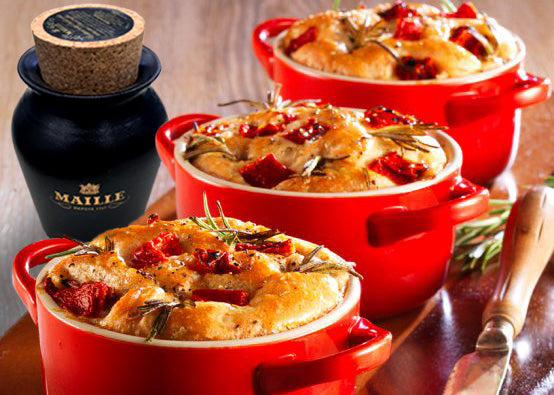 Preparation
Brush the inside of the casseroles with olive oil.
In a bowl mix together the flour, salt and yeast. Make a well in the centre and pour in the tepid water and the 2 teaspoons of olive oil add the chopped Maille Cornichons with cayenne chili peppers and the Maille Chablis white wine and black truffle mustard. Combine the ingredients together with a spatula to form a very soft dough ball. Continue to work the dough in the bowl with a beating action using either the spatula or a well-oiled hand for 3-4 minutes, cover and rest for 15 minutes.
Divide the dough between the casseroles and brush the surface well with some of the extra olive oil.
Gently press the oiled dough into the dishes with your fingers, cover and rest in a warm place for approximately 30 minutes or until doubled in size.
Using your fingertip make 4 deep dimples in the dough in each dish. Mix together the water with the remaining extra virgin olive oil and salt for the topping and pour the mixture into the dimples.
Sprinkle over with black pepper and top with the Maille Cornichons with cayenne chili peppers pieces. Rest for a final 15 minutes.
Whilst the dough is resting pre-heat the oven: 220°C/ 425°F/Gas Mark 7 Fan: 200°C
Bake for 18-20 minutes until lightly golden.
Tip:
For an extra moist finish drizzle the baked loaves with Maille balsamic glaze vinegar.
---