Muffuletta Sandwich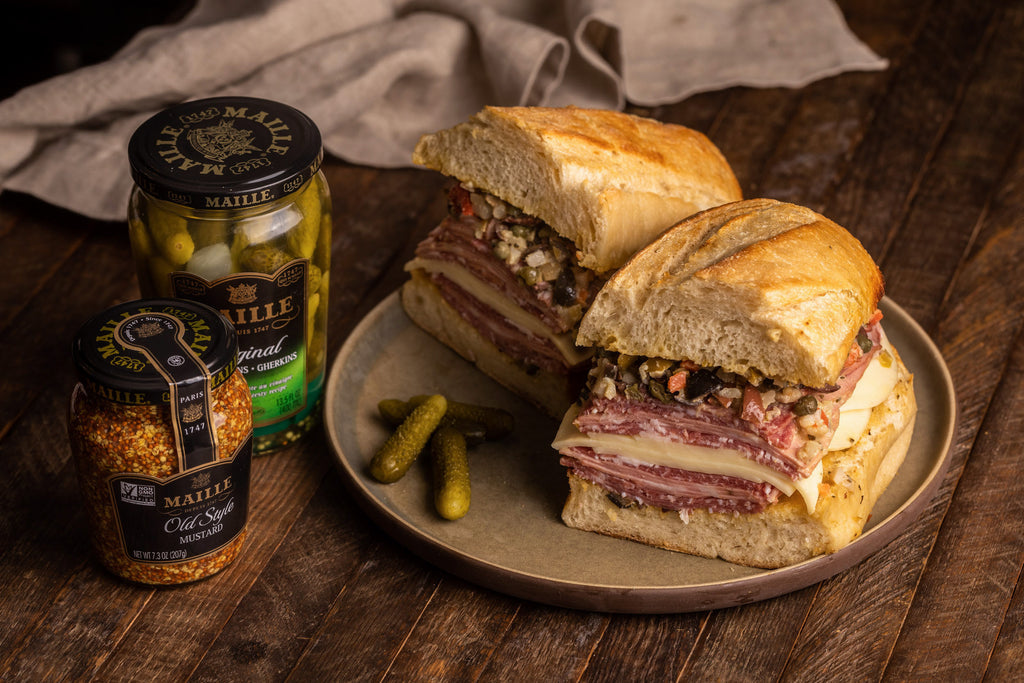 Prep Time: 15 minutes
Marinate time: 1 hour
Serves: 4
By: CookswithSoul
A New Orleans classic, this muffuletta sandwich is made with a quick and easy olive salad using Maille Old Style Mustard, Italian charcuterie, and provolone cheese piled high on a sourdough loaf. Serve it with Maille Original Cornichons for garnish and you have the perfect summer sandwich, great for an afternoon lunch or a casual gathering with friends.
Ingredients
1 cup mixed olives, pitted, chopped
3/4 cup chopped giardiniera
3 tablespoons Maille Old Style Mustard
2 tablespoons capers
1/2 tablespoon minced garlic
1/2 cup extra virgin olive oil
1 16-ounce sourdough loaf, Italian loaf, or French bread loaf
1 teaspoon dried oregano
1 pound variety of sliced deli meat (sopressata, mortadella, capocollo, etc.)
8 slices provolone cheese
Maille Original Cornichons, for garnish
Preparation
Combine chopped olives and chopped giardiniera in a small mixing bowl. Add Maille Old Style Mustard, capers, and minced garlic, and stir.
Mix in olive oil and set aside.
Slice sourdough loaf in half, lengthwise.
Spread the Maille and olive mixture on both sides of bread and season with dried oregano.
Arrange half of the sliced deli meat across the bottom half of the bread. Top with cheese. Add more Maille Old Style Mustard if desired.
Top the remaining slices of deli meat across the top of the cheese, then carefully place the top slice of bread on the meat to close the sandwich.
Wrap the sandwich tightly in plastic wrap and let it sit for at least one hour, up to 2 hours so that the Maille and olive mixture can soak into the bread.
Unwrap and cut the sandwich into quarters. Serve with Maille Original Cornichons on the side and enjoy.
---