Mushroom Dijon Sourdough Breakfast Strata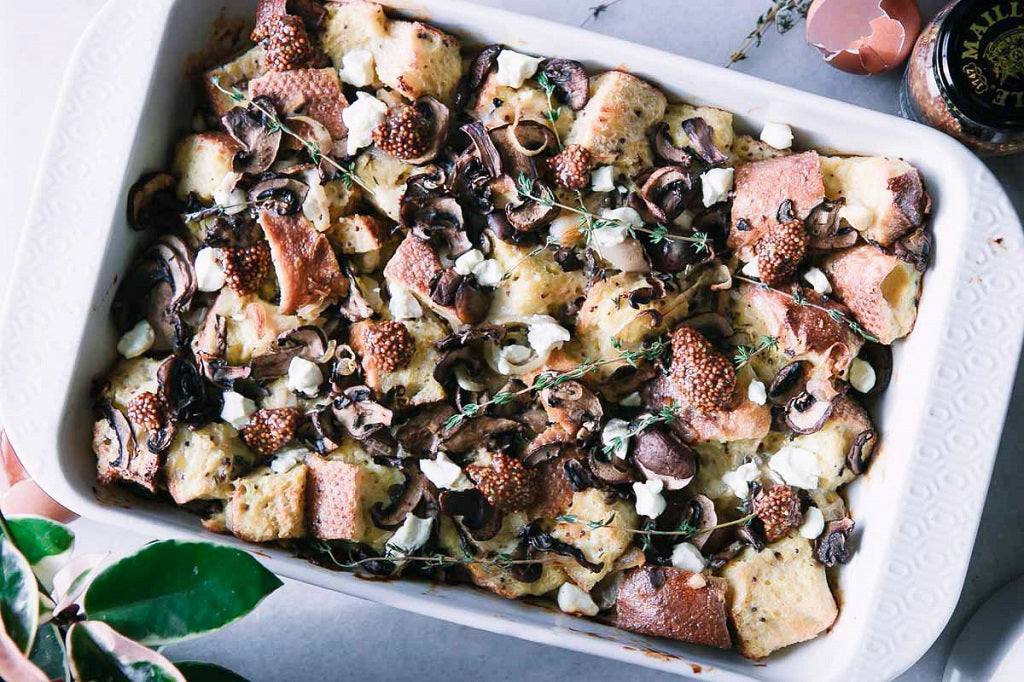 Recipe created by: Kristina Todini at Fork In The Road
Serves: 8
Ingredients
1 loaf sourdough or french bread, cut into 1/2 inch cubes
3 tsp oil, divided
3 shallots, sliced thin
1 pound mushrooms, sliced thin
2 tsp fresh thyme leaves
10 large eggs
2 cups whole milk
1/2 cup plain yogurt
2 Tbsp Maille Old Style Mustard
Pinch salt and pepper
1 cup grated mozzarella
4 ounces goat cheese, divided
Thyme sprigs for garnish
Preparation
Preheat oven to 375 degrees F.
Arrange bread cubes on cookie sheet and bake about 12 minutes, or until crispy but not burned.
To a large pan over medium-high heat add 1 teaspoon oil and add shallots, cooking until they begin to soften and turn brown, about 3 minutes. Reduce heat to medium-low and cook another 10 minutes until shallots are caramelized.
Add remaining 2 teaspoons oils to another large pan over medium heat and add sliced mushrooms. Cook about ten minutes, or until mushrooms have released their liquid and are beginning to dry out.
Add thyme, pinch of salt and pepper. Add mushrooms to pan with shallots, remove from heat, and set aside.
Combine the eggs, milk, yogurt, Maille Old Style Mustard, and a pinch of salt and pepper in a medium mixing bowl and whisk well to combine.
In a large mixing bowl, add the toasted bread, mushrooms and shallots, mozzarella, and half the goat cheese and stir once or twice to mix. Pour the egg, milk, and dijon mixture over the top and mix well with bread and vegetables.
Let sit for about 3-4 minutes, then stir to make sure dry bread is soaked with liquid (this is the point that you can cover dish and store overnight to bake the next day).
Pour bread and liquid mixture into a large greased baking dish, cover with aluminum foil, and bake at 375 for 30 minutes.
After 30 minute, remove the foil and bake another 30 minutes uncovered, adding remaining goat cheese about five minutes before done baking.
Serve with fresh thyme sprigs and a few dollops of Maille Old Style Mustard on top. Enjoy!
---