Mushroom, Prosciutto, and Gouda Galette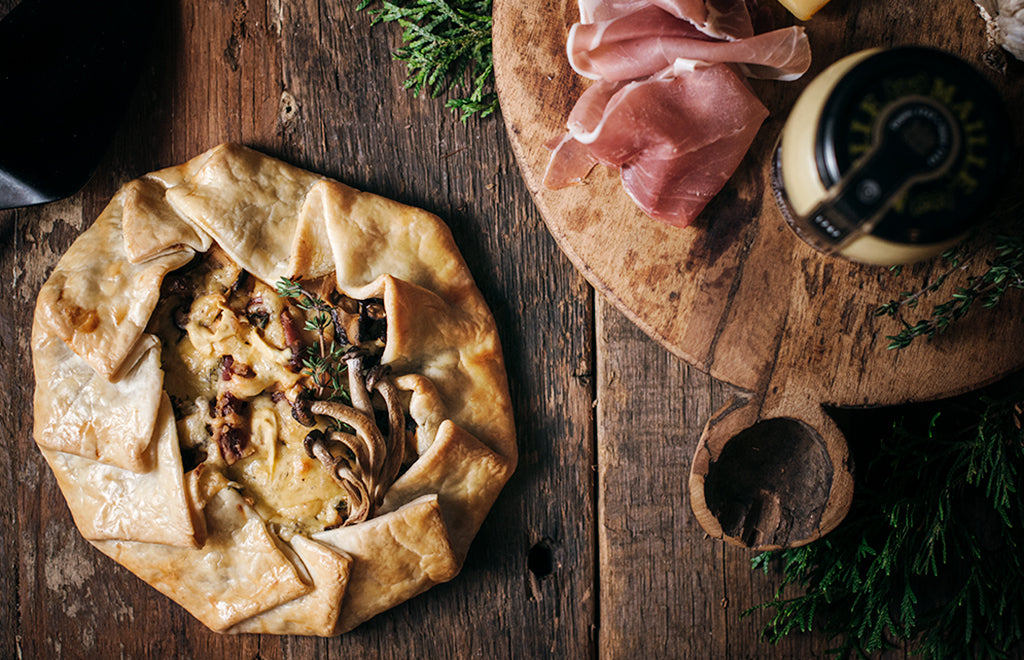 Recipe by: LittleFiggy
Prep Time: 10 minutes
Cook Time: 40 minutes
Servings: 6-8 servings
Ingredients
1 ea Pie Crust Pastry
1 ea Egg, Beaten with a splash of water
2 oz Smoked Gouda Cheese, Grated
8 oz Sliced Fresh Gourmet Mixed Mushrooms, Sautéed in 1 Tbsp of butter
4-6 slices Proscuitto
1 Tbsp Maille Dijon Originale
2 tsp Thyme Leaves, Fresh
Preparation
Preheat the oven to 375°F. Place the rack in the lower third of the oven. Line the baking sheet with parchment paper.
In a dry skillet over medium heat, add butter and allow to melt, then toss in sliced mushrooms and saute until just soft, 5 - 8 minutes. Remove from heat and add the Maille Dijon Originale, stirring through to coat, set aside.
Place a 12-inch rolled-out pastry circle on the parchment-lined baking sheet. Leaving a 2-inch border around the edge of the dough, top the center of the pastry with prosciutto and the grated Gouda Cheese. Scatter the mushrooms over the cheese, and sprinkle fresh thyme. Fold the edges over, pleating pastry as you go and pinching to secure. Brush the pastry lightly with the egg wash.
Bake in the 375°F oven for 30 - 40 minutes or until light golden brown. Allow to cool for at least 10 minutes and serve.
---